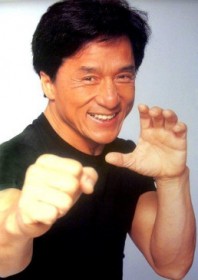 Date of Birth: April 7, 1954 (Victoria Peak, Hong Kong)
Real name: Chan Kong-sang
Other names: Chan Kwong Sang, Chen Gangsheng, Chen Yuen Lung, Fong Si Lung, Shen Long, Sing Lung
Occupation: Actor, director, producer, writer, stuntman, singer, cinematographer, action director, art director, philanthropist, entrepreneur
Style: Kung fu
Biography: Chan was born with the name Chan Kong-sang, meaning "born in Hong Kong". His parents, Charles and Lee-Lee, worked at the French embassy – his father worked in the kitchen and his mother was a cleaner. At six years old, Chan was enrolled in the Chinese Drama Academy in Hong Kong under the tutelage of Master Yuen Jim-yuen. He became a member of the Seven Little Fortunes Beijing Opera group alongside classmates including Sammo Hung, Yuen Biao, Corey Yuen Kwai and Yuen Wah. While studying at the Academy, Chan's parents relocated to Australia.
Later in life, it was revealed that Jackie Chan's parents had lived colourful lives in Mainland China prior to moving to Hong Kong in 1949. Chan's father had abandoned two sons in China where he had been both a spy and a gangster under the name Fang Dao-long. His mother had abandoned two daughters and was known to be a prolific gambler and opium smuggler.
Chan made his film debut at the age of eight when the group featured in the film Big and Little Wong Tin Bar (1962). As popularity in Beijing Opera waned, many performers found work in the fledgling Hong Kong film industry. Chan worked as a stuntman on the King Hu films Come Drink with Me (1966) and A Touch of Zen (1971), and the Bruce Lee films Fist of Fury (1972) and Enter the Dragon (1973). After signing with Chu Mu's Great Earth Film Company, Chan's first starring role was Master with Cracked Fingers (1974).
After relocating to Canberra, Australia, where he was employed as a construction worker when living with his parents (it was here he acquired the name 'Jackie'), Chan's stunt work was spotted by film producer Willie Chan who helped to cast Chan in the lead role for the Lo Wei film New Fist of Fury (1976). Chan was cast as a 'new Bruce Lee' in a succession of unsuccessful films whilst under contract for the Lo Wei Motion Picture Company.
Borrowed for a two picture deal with Ng See-yuen's Seasonal Films, Chan starred in his first successful film Snake in the Eagle's Shadow (1978) and the follow-up Drunken Master (1978), working with debuting director Yuen Woo-ping. The films helped to establish Chan as one of the leaders of the kung fu comedy genre, combining slapstick and broad physical comedy with martial arts action. Many critics would later compare his distinct style to both Buster Keaton and Bruce Lee.
Chan made his directorial debut with The Fearless Hyena (1979). He joined Golden Harvest in 1980 and made forays into the American film industry with Battle Creek Brawl (1980) and The Cannonball Run (1981). Spurred on by artistic differences on the set of US film The Protector (1985), Chan would remain in Hong Kong to create some of his most popular action films, including Armour of God (1986) and the Police Story franchise. Chan became synonymous for performing all of his own increasingly outlandish stunts. He formed The Jackie Chan Stunt Team in 1983 and has, over the years, helped to launch the careers of performers such as Ken Lo, Michael Tse and Brad Allan. In 1989, Jackie Chan was honoured by the British monarchy with an MBE for services to the Hong Kong film industry.
Encouraged by the international success of Rumble in the Bronx (1995), Chan appeared in the US film Rush Hour (1998) which would go on to gross US $130 million in America and make the actor a household name. In 1998, Jackie Chan released his autobiography, I Am Jackie Chan. In 2000, Chan appeared in cartoon form for the animated TV series, Jackie Chan Adventures. In 2004, Jackie Chan formed his own production company, Jackie Chan Emperor (JCE) Movies Ltd with Emperor Motion Picture Group principal Albert Yeung. In 2013, Jackie Chan was appointed to serve in China's new National Committee, handpicked by communist party leaders.
In November 2016, Jackie Chan was selected by the Board of Governors of the Academy of Motion Picture Arts and Sciences in Hollywood as the recipient of an Honorary Award. The award, an Oscar statuette, was presented to Jackie Chan at the Academy's 8th Annual Governors Awards. The award is presented to people who have displayed "extraordinary distinction in lifetime achievement, exceptional contributions to the state of motion picture arts and sciences, or for outstanding service to the Academy".
Chan married his wife, actor Joan Lin Feng-jiao, in 1982 and together they have one son, the actor Jaycee Chan. Jackie Chan also has a daughter, Etta Ng, from an affair in the late 1990s.
Speech! "In Hollywood, they care more about comedy, relationship and so many things before action stunts. In Hong Kong, we go straight into stunts and action, but in America sometimes that's too much. So, now I'm making a film half and half – take some good things from Hollywood and some good things from Asia."
"I never wanted to be the next Bruce Lee. I just wanted to be the first Jackie Chan."
Filmography (as actor): 1962 Big and Little Wong Tin Bar; 1963 The Love Eterne; 1973 Eagle Shadow Fist (+ action dir.); 1974 Master with Cracked Fingers (+ action dir.); Police Woman (+ action dir.); 1975 All in the Family; 1976 Hand of Death; New Fist of Fury; Shaolin Wooden Men (+ action dir.); The Killer Meteors (+ action dir.); 1977 To Kill with Intrigue (+ action dir.); 1978 Snake and Crane Arts of Shaolin (+ action dir.); Magnificent Bodyguards (+ action dir.); Dragon Fist (+ action dir.); Snake in the Eagle's Shadow; Drunken Master; Spiritual Kung Fu (+ action dir.); Half a Loaf of Kung Fu (+ action dir.); 1979 The Fearless Hyena (+ dir, action dir.); 1980 The Young Master (+ dir, scr, action dir.); The Fearless Hyena Part II; Battle Creek Brawl; 1981 The Cannonball Run; 1982 Dragon Lord (+ dir, action dir.); 1983 Winners and Sinners; Project A (+ dir, scr, action dir.); Fantasy Mission Force; 1984 Wheels on Meals; The Cannonball Run II; 1985 My Lucky Stars; Heart of the Dragon; Twinkle Twinkle Lucky Stars; The Protector (+ action dir.); Police Story (+ dir, scr, action dir.); 1986 Armour of God (+ dir, action dir.); 1987 Project A Part II (+ dir, scr, action dir.); 1988 Police Story 2 (+ dir, pro, scr, action dir.); Dragons Forever; 1989 Miracles: The Canton Godfather (+ dir, scr, action dir.); 1990 Island of Fire; 1991 Armour of God II: Operation Condor (+ dir, pro, scr, action dir.); 1992 Twin Dragons (+ action dir.); Police Story 3: Supercop (+ action dir.); 1993 Crime Story (+ action dir.); City Hunter (+ action dir.); 1994 Drunken Master II (+ dir, action dir.); 1995 Rumble in the Bronx (+ action dir.); Thunderbolt; 1996 First Strike; 1997 Mr. Nice Guy (+ action dir.); 1998 Who Am I? (+ dir, scr, action dir.); Rush Hour; 1999 Gorgeous (+ pro, scr, action dir.); 2000 Shanghai Noon (+ action dir.); 2001 Rush Hour 2 (+ action dir.); The Accidental Spy (+ pro, action dir.); 2002 The Tuxedo (+ action dir.); 2003 Shanghai Knights (+ action dir.); The Twins Effect; The Medallion; 2004 New Police Story (+ action dir.); Around the World in 80 Days (+ action dir.); 2005 The Myth (+ action dir.); 2006 Robin-B-Hood (+ pro, scr, action dir.); 2007 Rush Hour 3 (+ action dir.); 2008 Kung Fu Panda; The Forbidden Kingdom; 2009 The Shinjuku Incident; Looking for Jackie; 2010 The Spy Next Door; The Karate Kid; Little Big Soldier (+ pro, scr, action dir.); 2011 Shaolin; 1911 (+ dir.); Kung Fu Panda 2; 2012 Chinese Zodiac (+ dir, pro, scr, action dir.); 2013 Personal Tailor; Police Story 2013; 2014 As the Light Goes Out; 2015 Dragon Blade (+ pro, action dir.); 2016 Skiptrace (+ action dir.); Kung Fu Panda 3; Railroad Tigers (+ action dir.); 2017 Kung Fu Yoga (+ action dir.); The Nut Job 2: Nutty by Nature; The Lego Ninjago Movie; The Foreigner; Bleeding Steel; 2019 Knight of Shadows: Between Yin and Yang; The Iron Mask (+ pro.); The Climbers; 2020 Vanguard; 2021 All U Need is Love; Good Night Beijing; 2023 Ride On; Teenage Mutant Ninja Turtles: Mutant Mayhem; Hidden Strike.