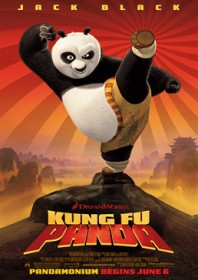 "Legend tells of a legendary warrior whose kung fu skills were the stuff of legend." And so begins DreamWorks' kung fu movie homage, set in an animated version of turn of the century China, with residents replaced with talking pigs and bunny rabbits.
Po is a panda – overweight, downtrodden and directionless, yet hopelessly optimistic and passionate about the martial arts. He daydreams about leaving his ostrich father's noodle shop and meeting the Furious Five – a group of highly trained fighters encompassing all five of the Chinese animal styles: mantis, tiger, monkey, crane and snake.
During an attempt to catch a glimpse of his heroes, Po is announced as the next Dragon Warrior, responsible for catching notorious super villain Tai Lung (a snow leopard). Shifu (Hoffman as a squirrel) has to train Po using the only technique that motivates him: food.
In a hilarious scene, Shifu and Po wrestle over the last dumpling using chopsticks as weapons and rice bowls as shields. He soon gathers enough skill to satisfy his Furious Five contemporaries and face the scary Tai Lung in one final, ultimate showdown.
Where this fast-paced family film really scores geek points is by adapting clichéd kung fu film traits for a new and younger audience. It is testament to the chopsocky genre that everyone can recognise and enjoy the same in-jokes; the script may be sassy and sharp, but the attention to detail (in genre terms) is spotless. Like the slapstick scenes straight from Jackie Chan's late seventies output, and the Furious Five and Shaolin elements which are direct references to the Shaw Brothers.
But most of all it is tremendous fun. Hardly original, but perfect in so many ways.