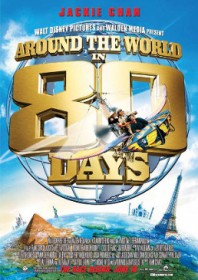 A feast of family fun, Jackie Chan finally delivers the wholesome US blockbuster he was destined to make. This is an all-round romp and multi-million dollar project that may not exactly hit the nail on the head, but certainly comes close.
Chan worms his way into Jules Verne's novel by way of a stolen Buddha statuette nabbed from the Bank of England at the turn of the century, and utilises Philleas Fogg's wager of a circumnavigation of the globe in 80 days as a rues to escape the local bobbies.
Clearly not an adaptation in the classical sense, Steve Coogan's faultless portrayal of Fogg and the numerous locations keep it true to the source, with loads of kung fu mayhem thrown in for good measure.
Chan is at the centre of all the exciting bits. Highlights include a fantastic slapstick routine with his stunt group at an art gallery in Paris and a devilish bout with Daniel Wu and the Ten Tigers of Kwantung, which is so genre-specific it borders on homage (even Sammo Hung pops up as Wong Fei-hung!).
Never has the west embraced Hong Kong talent so emphatically as this before, with a classic marriage of east and west celebrities filling in for fun cameos and in-jokes. Karen Mok plays the obligatory Chinese nemesis, whose Black Scorpion clan try to reclaim the statue as the inventor travels from London to Paris, Germany, Istanbul to India, China, San Francisco, and New York back to London, all the while hounded by an exaggerated Jim Broadbent and his colleagues of unscrupulous cohorts who scoff at Fogg's mad plans.
Cynical Chan fans will compare this to Shanghai Knights and underline the formulaic pattern of his American buddy movies, but this is undeniably one of his more enjoyable pictures, and the kids will love it too.