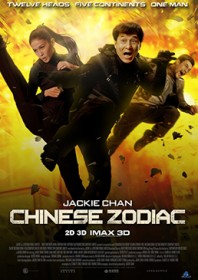 Jackie Chan fans certainly get their money's worth with this one; his first solo-directed effort in over two decades. Tellingly, he picks up where he left off with an indirect sequel to 1991's Operation Condor, reviving the character of treasurer-hunting, globe-trotting adventurer Asian Hawk with familiar nods to the Indiana Jones films. He plays a conflicted thief imaginatively referred to as J.C. who is called upon by a rich consortium of art forgers to locate 12 antique animal heads – each representing a sign in the Chinese zodiac – which were pillaged by British and French colonialists in the mid-19th century and are now dotted all over Europe (quite why such a young team of nubile, tech-savvy crooks employ the services of man approaching 60 is never quite explained).
As a collector of ancient Chinese relics, this is clearly a cause Jackie Chan feels passionately about. In one scene at a French chateaux, he literally and physically stands as the middleman in an argument between a rich European heiress defending her grandfather's generation for following the heinous orders of his superiors, and an unapologetic Chinese nationalist demanding retribution for historical war crimes. "These things happened so long ago," Chan says by way of escaping a political headlock, yet by the end of the film he can be seen sacrificing himself in the act of saving one of the stolen antiques from a destructive volcano. The film ends with a signed epilogue dedicated to "those who had given so much in repatriating lost relics to their rightful homes" and a personal message from Chan himself – spoken in English – thanking his fans for their continued support. Given his position at the head of a global brand, the voice-over highlights just how self-aware, responsible and painfully wholesome he has become since his last outing in the director's chair.
The film whips along at a breakneck pace (designed, presumably, as a ploy to glaze over the inaccuracies in the story), but what we ultimately end up with is a succession of empty spectacles. It moves rapidly from a rollerblade chase to a wild dog routine in a French maze, followed by a jungle fight with some random pirates in Vanuatu, a great big kung fu battle in an industrial plant, and a skydive fight played over a green screen. Much of the action relies on glaringly artificial computer-generated effects which look weird, and as a result the set-pieces feel flat and devoid of any palpable danger. Even the villains are nice.
It's confusingly multilingual, too, with selected scenes strangely dubbed in English while other actors, like Oliver Platt, use their own voices. Chan still behaves with a charming benevolence and an agility which defies his years, but everything about this film is completely innocuous.
AKA: Armor of God 3; Armor of God III: Chinese Zodiac; CZ12; The Legend of Chinese Zodiac; Rising Dragon