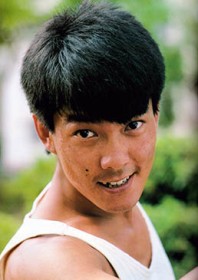 Date of birth: July 26, 1957 (Hong Kong)
Real name: Ha Ling-tsan
Other names: Ha Ling Chan, Ha Ling Chun, Hsia Ling Jun Biao, Yuan Biao, Bill Yuen, Yuen Biu, Jimmy Yuen Biao
Occupation: Actor, action director, producer, director, stuntman
Style: Kung fu
Biography: Yuen Biao is a veteran martial arts actor who has appeared in over 130 films and eight TV series. He is most famous internationally for his 1980s action comedies with childhood friends Jackie Chan and Sammo Hung. Despite his fantastic on-screen physicality – particularly in acrobatics – and a number of roles as the leading man, he is still primarily known as a supporting actor and is often overlooked in favour of his more famous kung fu 'brothers'.
Yuen Biao was born Ha Ling-tsan in Hong Kong. He was the fifth child in a family of eight children. At the age of six, he was enrolled into The Chinese Drama Academy under the tutelage of Sifu Yu Jim-yuen. He performed Beijing Opera in the touring group The Seven Little Fortunes, and from a very young age he was singled out for his incredible acrobatics ability. As well as providing his pupils with basic board and education, Sifu Yu Jim-yuen taught acting, gymnastics, kung fu and acrobatics and was known to be a notoriously stern disciplinarian. Ha Ling-tsan was given the name Yuen Biao – meaning 'little tiger' – in recognition of his teacher who re-christened all of his students. Many members of the Seven Little Fortunes would later become big stars in the Hong Kong film industry, including Yuen Tak, Yuen Wah, Corey Yuen Kwai, Jackie Chan and Sammo Hung.
Due to the decline in the popularity of Beijing Opera, Yuen Biao moved into the Hong Kong film industry after graduating from the Academy at the age of 16. He was given his first work as a stuntman by his 'big brother', Sammo Hung, who was already becoming one of the industry's most in-demand fight choreographers. Yuen Biao worked as an extra and stuntman on Bruce Lee's Hong Kong productions Fist of Fury (1972) and The Way of the Dragon (1972). He doubled for Lee in Enter the Dragon (1973). Yuen Biao would later perform as one of a number of stand-ins for Bruce Lee on his posthumously released Game of Death (1978), with action scenes provided by Sammo Hung.
Yuen Biao progressed into more prominent supporting roles during the 1970s. He made his leading man debut in the 1979 Sammo Hung kung fu comedy Knockabout, playing wily conman Yipao alongside Leung Kar-yan. The film was a hit and proved Yuen Biao to be a highly likeable screen presence, not to mention an incredibly gifted physical performer. As his status rose during the 1970s and 80s, Yuen Biao toyed with a number of anglicised names to appeal to the international market. These included 'Bill Yuen' and 'Jimmy Yuen' – the latter being an attempt to emulate the name of Jackie Chan – but both were eventually dropped.
He continued to provide great supporting roles in classic kung fu films including a turn as Wong Fei-hung's disciple Leung Foon in Yuen Woo-ping's The Magnificent Butcher (1980). He played a protective brother in the Jackie Chan comedy The Young Master (1980), and took another central role in Yuen Woo-ping's madcap Wong Fei-hung film Dreadnaught (1981). But it would be Sammo Hung who continued to provide the best opportunities to showcase Yuen Biao's talents. In 1981, Yuen Biao was cast as real-life Wing Chun master Leung Jan in Sammo Hung's seminal kung fu film, The Prodigal Son. The film was a prequel to his earlier Warriors Two (1978), in which Leung Jan was played as an older man by Leung Kar-yan and Yuen Biao appeared as an extra. Yuen Biao added a unique comic naivety and misguided arrogance to the role of Leung Jan and it remains his most popular performance. Sammo continued to cast Yuen Biao in pivotal supporting roles throughout the 1980s, including appearances in his original 'Lucky Stars' trilogy which also featured Jackie Chan. These included the films Winners and Sinners (1983), My Lucky Stars (1985), and Twinkle Twinkle Lucky Stars (1985).
The trio were collectively known as the Three Dragons, and Jackie Chan, Sammo Hung and Yuen Biao would continue to appear in some of their best work together throughout the 1980s. Yuen Biao played a police captain in Jackie Chan's Project A (1983). He played Jackie Chan's younger brother in Wheels on Meals (1984) and turned in a superb comedic performance as a neurotic thief in Dragons Forever (1988). He also had prominent roles in other Golden Harvest and Sammo-related projects, including the football comedy The Champions (1983), fantasy adventure Zu: Warriors from the Magic Mountain (1983), horror comedy Those Merry Souls (1985), the romantic Rosa (1986), the all-star eastern-western Millionaire's Express (1986) and the violent Vietnam war film Eastern Condors (1987).
Towards the end of the 1980s, Yuen Biao made a more concerted effort to break away from supporting roles in Sammo Hung films and make a name for himself as a contemporary leading man, with varying degrees of success. His best roles during this period were Righting Wrongs (1986), a blistering action film in which he played a tough cop alongside Cynthia Rothrock, and The Iceman Cometh (1987), a time travelling martial arts fantasy based loosely on the Highlander story. A serious role in the crime film On the Run (1987) was an attempt to move into more dramatic fare, but the film proved a flop at the box office. Interestingly, Yuen Biao has proved to be more famous in Japan, where he still enjoys a unique form of celebrity which has seen him release pop records and appear in a number of co-productions. Over the years, these films have included Bakayaro! (1991), The Setting Sun (1992), and No Problem 2 (2002).
In 1989, Yuen Biao stepped behind the camera for the first time to co-direct the supernatural Peacock King alongside Nam Nai-choi. The film was specifically targeted at Yuen Biao's Japanese following who favoured his projects which featured special effects. Yuen Biao continued to appear in supporting roles throughout the 1990s – the most notable being a reprisal of his Leung Foon role in Tsui Hark's Once Upon a Time in China (1991), which revived the Wong Fei-hung story for a new generation and featured Jet Li in the lead role. Yuen Biao was originally told he would have a more central role in the film which led to tensions on set. As a result, Yuen Biao refused to reprise his role as Leung Foon for the sequel, which was instead played by Benny Mok.
In 1992, he launched his own production company, Yuen Biao Films Ltd, and made his solo directorial debut with Kid from Tibet (1992). The film crew were allowed access to real Tibetan locations as long as the story made no reference to the country's political troubles. His next film for his own production company was his own take on the Wong Fei-hung story, Kickboxer (1993). Following a number of low-budget action roles in the 1990s, Yuen Biao returned to the big screen with roles in the latter-day Shaw Brothers production Hero (1997), starring Takeshi Kitano, and the Ekin Cheng film A Man Called Hero (1998).
Towards the end of the 1990s, Yuen Biao made the transition into Hong Kong television and made a number of shows for the TVB network. He had lead roles in Kingdom and the Beauty (1998), The Legend of a Chinese Hero (1998) and Righteous Guards (2002). He successfully reunited with Jackie Chan, working as a fight choreographer on the cowboy comedy Shanghai Noon (2000), and with a supporting role as a Hong Kong detective in Robin-B-Hood (2006). He has also continued to work with Sammo Hung, including a role in the 2001 fantasy film The Avenging Fist. In 2005, Yuen Biao appeared in the series Real Kung Fu in which he reprised his portrayal of Leung Jan from The Prodigal Son. The show also starred Yuen Wah, Leung Kar-yan and Sammo Hung's son, Timmy Hung.
In 2006, Yuen Biao played Leung Jan for a third time in the TV show Wing Chun – a remake of the 1994 film starring Michelle Yeoh. The show saw Yuen Biao play sifu to Nicholas Tse and also starred Sammo Hung. The show was later re-edited and released as a film called Legend of Twins Dragon (2007). In 2008, Yuen Biao appeared as a guest judge on the Chinese reality TV show The Disciple. The show, produced by Jackie Chan, was a talent contest to find a successor to Chan with the winner being granted the opportunity to star in their own kung fu film. Yuen Biao also appeared in the 2010 Ip Man film, The Legend is Born: Ip Man, in which he reprised the close combat Wing Chun sparring scenes from The Prodigal Son with Sammo Hung. In 2013, he appeared in China's first 3D TV drama, 12 Deadly Coins.
Yuen Biao married the former actress Didi Pang Sau-ha in 1984. Together they have two children: a daughter, Yi-bui, born in 1986, and a son, Ming-tsak, born in 1988. Yuen Biao continues to work in film and television, and spends his time between China and Canada where he owns a second home.
Speech! "At the beginning of my career I liked the film The Prodigal Son, but the film that best shows my ability as an actor and skills as a martial artist would have to be Kid from Tibet, so that is my favourite film now." Interview with Eastern Heroes
On Bruce Lee: "When I first started out in action movies, I thought if one day I'm able to represent him, and be able to have his status, that would be unbelievable. But we merely just wanted to be praised like that… No other in Hong Kong could ever replace his status."
Filmography (as actor): 1966 The Eighteen Darts (Part 1); The Eighteen Darts (Part 2); 1972 Fist of Fury; Hapkido; The Way of the Dragon; The Fourteen Amazons; 1973 Chinese Hercules; The Rendezvous of Warriors; Death Blow; The Master of Kung Fu; Enter the Dragon; Attack of the Kung Fu Girls; Back Alley Princess; Kickmaster; 1974 Master with Cracked Fingers; Super Kung Fu Kid; The Shrine of Ultimate Bliss (+ action dir.); Conman and the Kung Fu Kid; Paris; Virgins of the Seven Seas; The Tournament; 1975 Kung Fu Stars; The Boatman Fighters; The Big Showdown; The Man from Hong Kong; The Valiant Ones; 1976 Brotherhood; Killer Clans; Hot Potato; The Secret Rivals; Challenge of the Masters; The Himalayan; Hand of Death; The Magic Blade; Shaolin Wooden Men; 1977 To Kill a Jaguar; The Fatal Flying Guillotines; Secret Rivals 2; Last Strike; Broken Oath; The Dragon, the Odds; Jade Tiger; Invincible Armour; Deadly Angels; Death Duel; Shaolin Plot; Heroes of Shaolin (+ action dir.); Snuff Bottle Connection; 1978 My Kung Fu Master; The Amsterdam Kill; Dirty Tiger, Crazy Frog; Warriors Two; Enter the Fat Dragon; Flying Guillotine 2; The Vengeful Beauty; Swordsman and Enchantress; Game of Death (+ action dir.); Spiritual Kung Fu; Shaolin Connection; 1979 Knockabout; Odd Couple; 1980 The Magnificent Butcher; The Young Master; Snake Deadly Act; The Victim (+ action dir.); Encounters of the Spooky Kind; Bat Without Wings; 1981 Dreadnaught; Game of Death II; The Prodigal Son (+ action dir.); 1982 Carry on Pickpocket (+ action dir.); The Dead and the Deadly; Lovers Blades; 1983 Winners and Sinners (+ action dir.); Project A; The Champions; Zu: Warriors from the Magic Mountain (+ action dir.); 1984 Pom Pom; Wheels on Meals; 1985 My Lucky Stars (+ action dir.); Mr. Vampire; Those Merry Souls; Twinkle, Twinkle Lucky Stars (+ action dir.); 1986 Millionaire's Express; Rosa (+ action dir.); Mr. Vampire 2; Righting Wrongs (+ pro, action dir.); Young Champion; 1987 Eastern Condors; 1988 Dragons Forever (+ action dir.); Picture of a Nymph; On the Run; 1989 Peacock King (+ dir.); Miracles: The Canton Godfather; The Iceman Cometh (+ action dir.); 1990 Saga of the Phoenix; Licence to Steal; Shanghai Encounter; 1991 Once Upon a Time in China; Bakayaro!; 1992 Kid From Tibet (+ dir, pro, action dir.); Shogun and Little Kitchen; The Setting Sun (+ action dir.); 1993 The Sword Stained with Royal Blood; Deadful Melody; Kickboxer (+ pro, action dir.); Kin chan no Cinema Jack; 1994 Circus Kid; 1995 Don't Give a Damn; Tough Beauty and Sloppy Slop; The First Assignment; 1996 The Hero of Swallow Dragon in Shaolin; 1997 The Hunted Hunter; Hero; 1998 Kingdom and the Beauty (TV); The Legend of a Chinese Hero (TV); 1999 A Man Called Hero; Millennium Dragon; 2000 The Legend of the Martial Alliance (TV); 2001 The Avenging Fist; 2002 Righteous Guards (TV); No Problem 2 (+ action dir.); 2004 Enter the Phoenix; Boxer's Story (+ dir.); Hero Youngster; 2005 Real Kung Fu (TV); 2006 Wing Chun (TV); Robin-B-Hood; 2007 The Ultimate Crime Fighter (TV); Fight For Love; Legend of Twins Dragon; 2008 The Disciple (TV); 2009 Legend of Shaolin Kung Fu (TV); Turning Point; 2010 Just Another Pandora's Box; Empire of Assassins; The Legend Is Born – Ip Man; 2011 My Kingdom; 2012 The Legend of Wing Chun (TV); Tai Chi Hero; 2013 12 Deadly Coins (TV); 2014 Sifu vs Vampire; 2016 The Bodyguard.
Filmography (as action director): 1979 The Incredible Kung Fu Master; 1980 Two Toothless Tigers; 1984 Treasure Hunters; 1985 Heart of the Dragon; 1992 Ghost Killer; 1997 Leopard Hunting; 2000 Shanghai Noon.