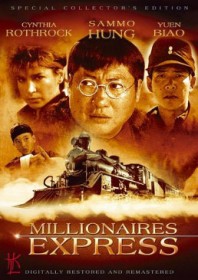 Another all-star Sammo Hung adventure, not as well crafted as his other classics yet perfectly pleasing enough. A cast of hundreds make this one a little tricky to follow. It's a Hong Kong take on the runaway train movie complete with western trademarks – robbers, hookers, even a dusty makeshift town located in the back of beyond (the outtakes show the set's big budget construction and subsequent demolition).
Comedy sub plots clash as the Millionaire's Express is grounded on its maiden voyage, causing its passengers of crafty criminals, thieving officials and sword fighting Samurais to seek refuge at the local town, newly refurbished by runaway mercenary Sammo and his gang of well meaning prostitutes.
The comedy is understandably hokey (highlights include Tsang's corrupt police chief and a sketch involving Wong Kei-ying, father of Wong Fei-hung, sharing a train carriage with his kung fu rival), so best to stick to the action.
The obligatory free-for-all finale is a routine crowd pleaser with the film's star names living up to expectations. Yuen Biao battles regular Dick Wei in a brilliant balcony brawl, Sammo offers newbie starlet Cynthia Rothrock a serious run for her money, while evil bootmaster Hwang Jang-lee buckles his swash like you've never seen before.
AKA: Nobles' Express; Shanghai Express