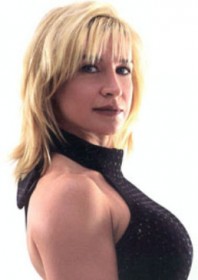 Full name: Cynthia Ann Christine Rothrock
Date of birth: March 8, 1957 (Wilmington, Delaware)
Chinese name: Law Fu-lok
Occupation: Actor, producer, instructor
Style: Tang Soo Do, taekwondo, Eagle Claw, wushu, Northern Shaolin, Pai Lum kung fu
Biography: Regarded as the 'Queen of Martial Arts Movies', Rothrock has starred in over 50 films. A former instructor, five-time undefeated World Karate Champion in forms and weapons (between 1981 to 1985) and owner of six black belts, Rothrock began her martial arts training at the age of 13, learning the Korean style of Tang Soo Do in Scranton, Pennsylvania, before learning Eagle Claw kung u with Master Shum Leong in New York City. After opening two schools in Pennsylvania, she relocated to California to open her own school and raise her own profile. Her first acting appearance was in a Kentucky Fried Chicken commercial in 1983. In the same year, while training as part of Ernie Reyes' West Coast Demonstration Team, Rothrock was spotted by Hong Kong production company Golden Harvest who were looking in California for a Caucasian lead to star in an upcoming project. Rothrock was signed to the studio and made her starring role debut in Police Assassins (1985), alongside Michelle Yeoh. She worked in Hong Kong for three years, appearing in seven films. In 1988, she made her first American film, No Retreat, No Surrender 2: Raging Thunder, a Hong Kong co-production with Shapiro-Glickenhaus Entertainment, followed by a return to America where she appeared in a number of martial arts films including the titular role in the China O'Brien films (directed by Enter the Dragon's Robert Clouse), and a number of pictures alongside Australian fighter Richard Norton. Norton and Rothrock would appear in a total of nine films together, causing a British magazine to name them the "Fred Astaire and Ginger Rogers of Martial Arts Films". She was considered for a leading role alongside Sylvester Stallone in an action film to be called The Executioner, but the project fell through following Stallone's move to more comedic roles. Rothrock has also appeared on television in shows including 'Hercules' and 'The Dukes of Hazzard'. In 2004, Rothrock stepped away from the film industry to concentrate on teaching and raising her daughter, Skyler Sophia Rothrock. She continues to work in action films, and in 2015, she worked as a co-producer and leading actor on the family-orientated film The Martial Arts Kid, alongside Don "The Dragon" Wilson.
Speech! With Kung Fu Movie Guide: "Many people said if I stayed in Hong Kong I would have been in bigger films like Michelle Yeoh. The truth is I missed home and I couldn't wait to get back to my family and friends. I do miss doing Hong Kong movies, though. In my mind they are the best ones I have done as far as fighting goes."
Click here to read our interview with Cynthia Rothrock.
Filmography (as actor): 1985 24 Hours to Midnight; Police Assassins; 1986 Millionaire's Express; Righting Wrongs; Magic Crystal; 1988 The Inspector Wears Skirts; Blonde Fury; No Retreat, No Surrender 2: Raging Thunder; 1989 City Cops; 1990 Prince of the Sun; China O'Brien; Martial Law; Free Fighter; Fast Getaway; Lady Dragon; 1991 Martial Law II: Undercover; China O'Brien II; 1992 Tiger Claws; Rage and Honor; Rage and Honor II: Hostile Takeover; 1993 Angel of Fury; Guardian Angel; Honor and Glory (+ pro); Irresistible Force; 1994 Undefeatable; Fast Getaway 2; Eye for an Eye; 1996 Tiger Claws II; Hercules: The Legendary Journeys (TV); Sworn to Justice; Checkmate; Night Vision; 1997 The Hostage; The Dukes of Hazzard: Reunion! (TV); American Tigers; 1999 Tiger Claws III; 2000 Manhattan Chase; 2001 Redemption; 2002 Outside the Law; 2003 Bala Perdida; 2004 Sci-Fighter; 2007 Lost Bullet; 2012 Santa's Summer House; 2013 Badass Showdown; 2014 Mercenaries; 2015 The Martial Arts Kid; 2016 Showdown in Manila; Beyond the Game; Asian Ghost Story; Mr and Mrs Smit (TV); 2017 Star Raiders: The Adventures of Saber Raine; A Doggone Hollywood; Death Fighter; 2018 Fury of the Fist and the Golden Fleece; Cool Cat Kids Superhero.