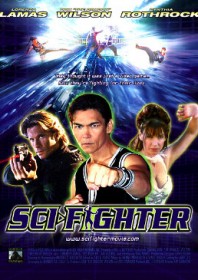 A turgid, demoralising mess which starts off innocent enough (Don Wilson's single parenting nightmare with insular kung fu son), then goes a little off track (father and son get themselves stuck in Granddad's virtual reality simulator), before settling on a succession of lazy, tired fight sequences.
Camacho's gimmick of an all-star fighting cast (their competitive titles are listed not only on the opening credits but also at the end) greatly overwhelms the procession of battles as each 'Master' gets to strut their stuff one after the other. None of them are particularly impressive on screen, lining up to be beaten (somehow) by the bored flailings of Don Wilson who, still without a hit movie to his name, now appears to have given up trying.
The son, Daneya Mayid, probably comes out looking the best in what is essentially a cheap exploitation of talent. Not even a white-gowned wire-assisted Cynthia Rothrock can prevail above the film's multitude of flaws.
AKA: Virtual Fighter; X-Treme Fighter