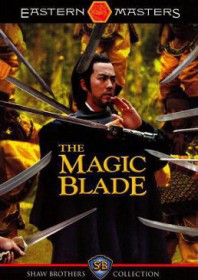 Fantastic sword and sorcery from Chu Yuen, an adaptation of a Gu Long wuxia novel. The film is often credited for being one of the first wuxia-horror crossovers, although the Shaw Brothers dabbled with the supernatural years before with their hokey Hammer co-production The Legend of the 7 Golden Vampires. This is a sharper, more atmospheric and gimmicky caper, bristling with imagination and similar in shocks to something like Kaneto Shindo's Onibaba.
Ti Lung is tremendous as wandering swordsman Fu, who borrows a poncho and five o' clock shadow from Clint Eastwood and a spinning steel tonfa sword from Shaw Brothers' barmy weapons cache. Fu tracks down the killer of his sifu – the extravagant Master Yen (Lo Lieh) – but before he has the opportunity to kill him, he ends up fending off a pair of hired hitmen also after Yen's head. In a somewhat illogical if chivalrous decision, Fu becomes Yen's protector when the mysterious and secretive Master Yu hires a barrage of underworld killers to bump the two of them off.
Yu wants possession of the 'Peacock Dart'. It's essentially a basic household strainer found in a steam cooker, but once detached, one of the metal leaves can cause a spontaneous explosive chain reaction which kills just about everyone in the room. Yu hires a random assortment of spooks in his mysterious quest for martial supremacy, including the toothless cannibal witch Devil Grandma and a bizarre eunuch warrior.
The fight scenes are never less than innovative; great constructions of spiralling absurdity where swords clash and fighters fly. And amongst the carnage, Gu Long slips in a wry metaphor about the corrupting influence of martial art through the pursuit of wealth, power and status. A great movie.