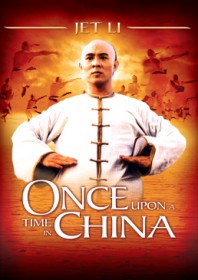 Tsui Hark's seminal kung fu film not only breathed new life into the genre (borrowing the trampolines and wires used more predominantly in his supernatural pictures) but the film also resurrected Chinese folk hero Wong Fei-hung for a whole new generation of film goers. Part of the film's genius stems from the casting of the vibrant Jet Li in the pivotal lead role. He embodies the Christ-like figure of Wong Fei-hung with a maturity that defies his years whilst being utterly electrifying in the action scenes. Like most Wong Fei-hung films, the story deals in the encroachment of western powers (namely British, French and American) upon Chinese soil at the turn of the century.
We are introduced to Wong's disciples: Butcher Wing (Kent Cheng), Buck-Teeth Soh (Jacky Cheung) and his longing Aunt Yee (Rosamund Kwan), a Chinese adopting western mannerisms and playing folly to Wong's charms. The story has sifu Wong tackling corrupt local authorities who, as well as pillaging from the locals, enjoy a wealthy settlement from Chinese slave labour. A strong anti-western sentiment dominates (like with the other films in the series), and imperialist foreigners are depicted as narrow-minded, bigoted and violent. There is also a sense of an ancient civilisation rooted in tradition struggling to adapt to the rapid industrial changes of the age.
The strong narrative beautifully entwines with the action, all of which is top class. The standout sequences include a cleverly choreographed tea shop brawl with Wong Fei-hung fighting a hoard of seedy officials armed only with an umbrella, and an extended high-flying duel with 'Iron Robe' Yim (Yuen Shi-kwan), a supposedly 'bullet-proof' fighter, which sees the two performers leaping from flailing ladders and heavy cargo flats in a compelling, gravity-defying finale. An absolute triumph.
AKA: Wong Fei-hung