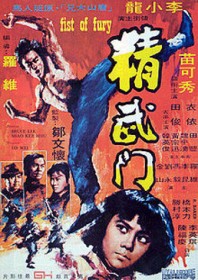 Lee's most intense performance, Lo Wei's powerful kung fu film is ripe with anti-Japanese hysteria, and there is not a single pleasant Japanese character in the movie – unlike Gordon Chan's remake Fist of Legend.
But politics aside, this is a riotous Bruce Lee vehicle, kicking out trademarks and smashing teeth in the process. The revenge plot (based on factual events) has Lee's sifu poisoned by a rival Japanese school in turn of the century Shanghai. All of which acts as a fine excuse to string together a great succession of fight sequences.
Lee's majesty of touch with the fight choreography shows an appreciation for technique and tradition – as well as a keen cinematic eye – which was light years ahead of his contemporaries. This is best displayed when Lee is pounding the life out of a dojo full of karate students using only fists, feet and nunchaku. The duel with Robert Baker (Lee's real life bodyguard) near the film's end is another triumph.
As kung fu theatre goes, Fist of Fury is an immensely satisfying experience and stands as probably Lee's best Hong Kong work.
AKA: The Chinese Connection; Fists of Fury; The Iron Hand; School for Chivalry