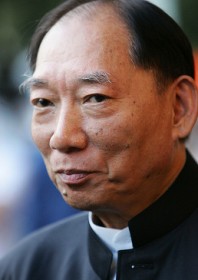 Date of birth: January 1, 1945 (Guangzhou, China)
Other names: Yuen Wo Ping, Yuen Ho-ping, Peace Yuen, Yuan Ta-yean, Yuan Ta-ten, Yuen Dai-aan, Yuen Woo-pang, Yuan Ho-ping, Yuan Her-ping, Yuan He-ping, Ba Ye
Occupation: Director, producer, actor, action director, writer, production manager, stuntman
Biography: One of the greatest fight choreographers in kung fu cinema, Yuen Woo-ping is credited as a pioneer in the Hong Kong kung fu comedy genre. His prolific filmography has taken him from Hong Kong to Hollywood and encompasses work with a roll call of martial arts stars including Donnie Yen, Jet Li, Sammo Hung and Jackie Chan, as well as auteur directors including Ang Lee, Quentin Tarantino, Tsui Hark and Wong Kar-wai.
Yuen Woo-ping was born the eldest of 10 siblings at the end of the Second World War. His name means 'peace' in Cantonese. His father, the actor and martial artist Simon Yuen Siu-tien, trained his sons in Beijing Opera. Many of Simon Yuen's sons would follow their father into the Hong Kong film industry, and are collectively known as the Yuen Clan. His siblings include Sunny Yuen Shun-yee, Brandy Yuen Jan-young, Yuen Cheung-yan and Yuen Yat-chor.
Woo-ping performed as an actor, extra and stuntman for the Shaw Brothers studio throughout the 1960s and early 70s. He had brief acting appearances in a number of classic titles including One-Armed Swordsman (1967), The Boxer from Shantung (1972) and The Blood Brothers (1973). He slowly developed his skills behind the camera as an action director on a number of independent kung fu titles. In 1975, former Shaw Brothers employee Ng See-yuen launched his own production company, Seasonal Films, as a platform to nurture young and emerging talent. Ng was first introduced to Woo-ping via Shaw Brothers choreographer Tong Gaai. Ng summarily hired Woo-ping him to work as fight choreographer on Snuff Bottle Connection (1977) and Secret Rivals II (1977).
Woo-ping's directorial debut was the highly successful kung fu comedy Snake in the Eagle's Shadow (1978) for Seasonal Films. The film grossed nearly HK $3m at the Hong Kong box office, and along with the follow up Drunken Master (1978), helped to not only launch Woo-ping as one of Hong Kong's best new directors, but also skyrocketed its star Jackie Chan to international acclaim.
The two films, including a follow up to Drunken Master called Dance of the Drunk Mantis (1979), helped to re-launch the career of Yuen Woo-ping's father Simon Yuen, playing the alcoholic antihero Beggar So, or 'Sam the Seed'. Simon Yuen was set to reprise the role in Woo-ping's The Magnificent Butcher (1980) but he died early in production.
Woo-ping continued to direct throughout the 1980s predominantly making raucous, highly innovative action comedies, many of which would feature other members of the Yuen clan. In 1984, he helped to launch the career of Donnie Yen with the film Drunken Tai Chi. In the early 1990s, Woo-ping concentrated more on fight choreography, helping to re-launch the Hong Kong kung fu revival alongside 'new wave' auteur Tsui Hark for the Once Upon a Time in China films. Woo-ping was chosen by Tsui Hark to replace the film's original fight choreographer Lau Kar-wing.
It was his fight choreography on Fist of Legend (1994) which caught the attention of the Wachowski Brothers, who hired Woo-ping for their groundbreaking sci-fi action film The Matrix (1999) and its two sequels. Woo-ping summarily became the first choice choreographer in Hollywood for Hong Kong style action. He was hired by Ang Lee to choreograph the kung fu sequences in his Oscar-winning wuxia film Crouching Tiger, Hidden Dragon (2000), for which Woo-ping won a HK Golden Horse Award. In 2003, Woo-ping was chosen by Quentin Tarantino to choreograph the action in his kung fu revenge opus Kill Bill. He has most consistently collaborated with Jet Li having worked together on 11 titles so far, both in Hong Kong and America. In 2012, Woo-ping's name was among over 70 celebrities featured on the Hong Kong Avenue of Stars in Tsim Sha Tsui.
Speech! "In each film, I would design the action based on the script, the character's personality, the level of martial arts. I've never thought about handling the past, the present, the future of this or that person. I don't carry such burden. I don't worry about not doing well." Wu-Jing.org
On choosing the best of his own films: "Drunken Master would be number one, Tiger Cage at number two, Iron Monkey at number three. Tiger Cage is quite unique because it has a contemporary setting, rather than being a costume drama. Another favourite of mine is called The Miracle Fighters, but western audiences might struggle to identify with that because it's a very Chinese story." Twitch Film
Filmography (as director): 1978 Snake in the Eagle's Shadow (+ action dir.); Drunken Master (+ scr, action dir.); 1979 Dance of the Drunk Mantis (+ action dir.); 1980 The Magnificent Butcher (+ action dir.); The Buddhist Fist (+ pro, action dir.); 1981 Dreadnaught (+ action dir.); 1982 The Miracle Fighters (+ scr, action dir, cast); 1982 Legend of a Fighter (+ action dir.); 1983 Shaolin Drunkard (+ scr, action dir, cast); 1984 Drunken Tai Chi (+ scr, action dir.); 1985 Mismatched Couples (+ cast); 1986 Dragon vs. Vampire (+ pro); 1988 Tiger Cage (+ cast, action dir.); 1989 In the Line of Duty 4 (+ action dir.); 1990 Tiger Cage 2; 1991 Tiger Cage 3; 1993 Iron Monkey (+ action dir.); The Tai Chi Master (+ action dir.); Heroes Among Heroes (+ pro); 1994 Wing Chun (+ pro, action dir.); Fire Dragon; 1995 Iron Monkey 2 (+ action dir.); Red Wolf (+ action dir.); 1996 Tai Chi Boxer (+ pro, scr, action dir.); 1997 Master of Tai Chi (+ action dir.); 1998 The New Shaolin Temple (+ action dir.); 1999 Swordsman of Flying Dagger; 2010 True Legend (+ action dir.); 2013 Vigilante: The Lost Order; 2016 Crouching Tiger, Hidden Dragon: Sword of Destiny (+ action dir.); 2017 The Thousand Faces of Dunjia; 2018 Master Z: Ip Man Legacy.
Filmography (as action director): 1971 Mad Kill (+ actor); 1972 Tough Guy (+ actor); The Lizard (+ actor); The Bloody Fists (+ actor); 1973 River of Fury; The Money Tree; The Master of Kung Fu; Heroes of Sung (+ actor); Fist to Fist; Call to Arms; The Bastard; The Awaken Punch; 1974 Wits to Wits; The Shadow Boxer; The Big Showdown; 1975 Tiger Force; 1976 Homicides: The Criminals Part II; Bruce Lee and I; Brotherhood; 1977 To Kill a Jaguar; Snuff Bottle Connection; The Secret Rivals II; Instant Kung Fu Man; Broken Oath; Arson: The Criminals Part III; 1978 Born Invincible; 1979 Revenge of the Shaolin Master; 1981 Game of Death II; 1984 Merry Christmas (+ actor); 1991 Once Upon a Time in China; 1992 Twin Dragons; Once Upon a Time in China II; 1993 Last Hero in China; 1994 Fist of Legend; 1996 Black Mask; 1998 Lethal Weapon 4; The Water Margin; 1999 The Matrix; 2000 Crouching Tiger, Hidden Dragon; 2001 Chinese Heroes; The Legend of Zu; 2002 Black Mask 2: City of Masks; 2003 The Matrix Reloaded; The Matrix Revolutions; Kill Bill: Vol. 1; Enter the Matrix; 2004 Kill Bill: Vol. 2; Kung Fu Hustle; 2005 Unleashed; House of Fury; 2006 Fearless; The Banquet; 2008 The Forbidden Kingdom; 2010 Just Another Pandora's Box; Enthiran; 2013 Man of Tai Chi; The Grandmaster; 2014 Once Upon a Time in Shanghai; 2015 Ip Man 3; 2018 Ip Man 4.
Filmography (as actor): 1966 The Magnificent Trio; The Knight of Knights; 1967 The Professionals; One-Armed Swordsman; The Full Moon; 1968 That Fiery Girl; The Sword of Swords; Red Lamp Shaded in Blood; Golden Swallow; The Dragon Fortress; 1969 The Invincible Fist; 1970 The Heroic Ones; The Wandering Swordsman; 1971 The New One Armed Swordsman; King Eagle; The Duel; Duel of Fists; The Anonymous Heroes; 1972 Four Riders; The Boxer from Shantung; The Angry Guest; 1973 The Blood Brothers; 1975 Lady of the Law; Kung Fu Stars; The Imposter; Cleopatra Jones and the Casino of Gold; 1987 Eastern Condors; 1988 Heart to Hearts; 1989 Just Heroes; 1990 My Hero; 1992 The Wicked City; Gameboy Kids; 1993 Bogus Cop; 2013  The Grandmaster.
Filmography (as producer): 1982 The Postman Strikes Back; 1993 Madam City Hunter