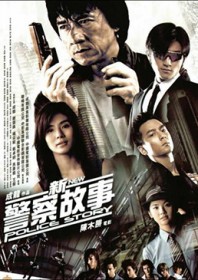 A calculated move from Jackie Chan, returning to the seminal franchise which made his name internationally in an attempt to regroup his initial fandom scarred – if only slightly – by a lackluster string of Hollywood paychecks. He gives everything to this. He even sings the theme tune.
Benny Chan is a dab-hand at this kind of blockbuster (see Who Am I? and Gen-X-Cops); a righteous police thriller which stinks of morality almost as much as gunpowder and burning tires. Indeed, it seems the whole of Hong Kong has closed for the occasion, with Jackie using many of the city's most iconic, contemporary hot-spots as his own personal playground.
So, this is similar to Chan's initial twenty-year-old vision, then. Only on this occasion, fun-time slapstick has been replaced with laden sensitivity, a lacquered sense of style permeates and eventually becomes grating, and a youthful supporting cast adversely force Jackie to wear all 50 of his years. There is also a self-conscious attempt to link together the previous films with some honking references, while the role of Inspector Chan's long-suffering girlfriend is replaced by Charlie Yeung (Maggie Cheung clearly didn't return the call), who is almost convincing despite being half Chan's age.
The story sees Daniel Wu and his masked gang of cop killers using video game technology to shoot their way into banks, possibly because of a spoiled, overbearing childhood. Chan has now made Chief. He's the daddy in a group of youthful rookies who are all killed by Daniel's punks after a terrific ambush in a warehouse. Chan hits the bottle, loses his girlfriend (for a bit), and attracts a supportive new partner with floppy hair (Nicholas Tse). The two of them hunt down the cyber killers in a tense Lethal Weapon sort of way, culminating in a glossy confrontation at the Bank of Hong Kong which is matched only in its meticulous excitement by some truly horrible product placement.
Enjoyable enough, but we are still far from the original, and what it lacks in heart it makes up for in over-the-top spectacle.