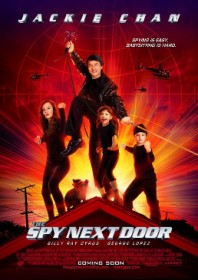 Innocuous family fun, an homage to American spy shows from the 1960s like Get Smart and similar to the sort of insipid knockabout comedies you find in the children's section of DVD stores. In a way it is also a tribute to Jackie Chan himself (the movie opens with clips from his earlier action films), which is odd considering the film's universal audience. Only experienced, hardened Chan fans would consider going anywhere near this. The target market will doubtlessly be left perplexed as to the significance of casting an aging Chinese man in the lead role.
Chan doesn't seem too distressed at having Beethoven director Brian Levant round the edges of his trademark action scenes to cartoonish levels, particularly now age has taken its toll on the actor approaching his sixth decade. But Chan is incredibly likable and never gives less than everything, even to his most half-baked of projects.
He plays Bob Ho, a boring paint supplier enjoying a twilight romance with his divorced neighbour Gillian (Valletta), struggling to win over the affections of her three troublesome children. But Bob isn't really a paint supplier. He's actually a cool Chinese super spy with an arsenal of gadgets recruited by the CIA to tackle an idiot insurgence of Russian terrorists looking to infiltrate America's precious oil reserves. His double life unravels when he volunteers to babysit the children for a few weeks. "I've brought down dictators, how hard can three kids be?"
Good natured slapstick ensues, and the story is affecting enough to tug on the heartstrings despite the most predictable of set ups.
AKA: Double Mission; Kung Fu Nanny