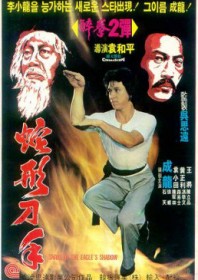 Jackie Chan's first box office triumph is a marvelous chopsocky which ranks as one of the best martial arts films ever made. Revolutionary as it is splendid and bolstered by a palpable spirit of free-flowing creativity, the film was only made possible at the behest of prolific producer Lo Wei.
Lo agreed to release Jackie Chan from his own stifling, straight-jacketed contract to make an independent picture with Ng See-yuen's fledgling new company Seasonal Films. The film would pair Chan with a new and unproven director, Yuen Woo-ping. Lo Wei, who believed Chan to be "box office poison" may have believed the same fate would befall Seasonal Films, but nothing could have been further from the truth. Snake in the Eagle's Shadow proved to be a huge, unprecedented hit, the quintessential kung fu comedy heralding a new wave of Hong Kong action films not seen since the heady days of Bruce Lee.
Although not as rounded or confident as its follow up Drunken Master, Snake is still an absolute riot. The story of Chien Fu (Chan) – the so-called "human punching bag" – is not a particularly inspired one. He is relentlessly picked on and bullied by his classmates and even his own sifu. That is until he befriends a beggar (played by Yuen Woo-ping's father, Simon Yuen) who teaches him the Snake Fist technique, an ancient and almost obliterated kung fu style targeted by rival Eagle Claw masters who want it eradicated. They are led by the great kung fu menace Hwang Jang-lee from Ng's breakthrough film The Secret Rivals.
Woo-ping's beggar character is much more than a mere comedic device. He represents a revolutionary take on the master/pupil tradition, far removed from the virtuous, dignified masters of the Shaw Brothers era. The beggar is a homeless, uncouth, disrespected and alcoholic vagabond living on the outer fringes of society. But he is also sensitive, nurturing and deceptively proficient at the martial arts. His hidden physicality is almost bashfully disguised as to assume his role within society's pecking order, making the connection between boy and beggar even stronger. Shunned and regarded as failures, they are both outcasts in a world governed by antiquated rules and traditions. The beggar character would become synonymous with kung fu slapstick, but this is where it all started.
Of course for the most part it is Jackie Chan who steals the limelight with his expert kung fu skills and comic timing, relishing the freedom of working with a creative and like-minded studio for the first time in his career. Yuen Woo-ping (future choreographer of The Matrix films and Crouching Tiger, Hidden Dragon) helps to create a platform for the visionary performer to unleash his true comedic potential after so many years of demoralising false starts.
AKA: Bruce vs. Snake in Eagle's Shadow; Eagle's Shadow