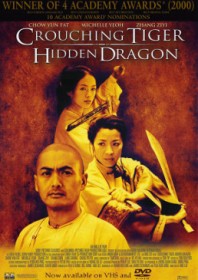 The traditional wuxia film has never looked so good. A lavish masterpiece from auteur director Ang Lee whose redefining of the genre – combining western techniques with vivid far eastern aesthetics – is the most successful Chinese film of recent times. Critically acclaimed and boasting art house credentials, Crouching Tiger is a refreshing and spellbinding watch.
Striking photography, courtesy of Peter Pao, help to create a magical 17th century Chinese backdrop. Yuen Woo-ping's choreography delivers a strong backbone of stylish combat defying the laws of gravity at every conceivable opportunity. There are flashes of King Hu swashbuckling as our combatants leap effortlessly across walls and rooftops.
Lee owes much of his inspiration not only to Wang Du-lu's book but also the kung fu movies of his childhood, honed by an education at western film schools. The secret to the film's accessiblity is a strong character driven narrative and a heavy focus on the dramatics. Lee called the film "Sense and Sensibility with martial arts."
And it all works so damn well. Even the cast of superstar actors look convincing in both the acting and the action (if you can excuse their broken Mandarin). The story is steeped in Chinese folklore but at its heart sits a deeply human and universal tale; one of passion, and the struggle over tradition.
We follow the plight of a repressed and forever searching host of characters. Li Mu-bai (Yun-fat) is an expert and virtuous swordsman prepared to pass on his legendary Green Destiny sword until the notorious killer Jade Fox (Pei-pei), responsible for his master's death, reappears on the scene. Yu Shu-lien (Yeoh) is Li's long-suffering, self-sacrificing partner, desperately in love with him but forced to shackle her feelings in respect of Li's dead wife.
Whereas Jen Yu (Ziyi) acts as the parallel between them. A spirited young warrior with a lot to learn, she's the Manchurian daughter and disciple of Jade Fox who steals the Green Destiny and longs to escape her royal repression.
The winner of over 40 awards and ranking highly in many lists for the Greatest Movies of All Time, there is a lot to love and admire here: an exquisite adventure that should be viewed at every opportunity.