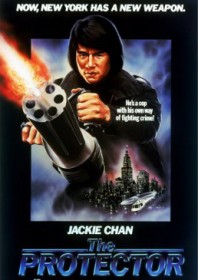 Jackie Chan's second attempt at international success (the first being 1980's hideous Battle Creek Brawl) can now be viewed as a landmark case in the east-meets-west action movie culture clash of the 1980s. Fresh from huge native success with films like Project A and creatively at the top of his game, Jackie Chan would eventually leave the set of this troubled B-movie after continual disagreements with director James Glickenhaus. Chan was later forced to return for contractual reasons.
The film, if nothing else, is a rather ugly reminder of just how far ahead of his time Jackie Chan and Hong Kong action cinema was during the 1980s, and how reluctant Hollywood was in giving Chan full control of his own project. This botched film is a particularly nasty, plodding effort, but without The Protector there would be no Police Story – Chan's retaliatory action masterpiece made as a direct riposte to this film and a clear signal to Hollywood that times were changing.
In an effort to selvage some credibility, Chan went back and added extra scenes, some involving Sally Yeh in a brand new subplot. He even re-edited Glickenhaus' action (or lack of), and removed the leering nudity and bad language. So there are two versions of this film out there offering distinctly opposing visions. But if given the choice, you should always watch Police Story.
Glickenhaus casts Jackie Chan as a New York supercop by way of Dirty Harry in a vacuous, charmless role which makes you wonder whether the director had ever seen a Jackie Chan film before. As Billy Wong, he's a sweary, wayward, gun-toting big shot masterminding Miami Vice-style speedboat chases along New York harbour.
An entrepreneurial Manhattan mogul has his daughter snatched by Hong Kong drug lords in a territorial dispute, so Billy and his aging deadbeat partner head east to rough up criminal mastermind Ko (Roy Chiao) and his kung fu company. This includes world karate champ Bill Wallace, with Chan continuing his tradition of staging epic gweilo boss battles. But the fight is a cumbersome tussle and far from the furious delight of the Benny Urquidez duel in 1984's Wheels on Meals. Chan then fights on board a shipping container suspended from a moving crane and dodges bullets from a circulating helicopter, but somehow Glickenhaus still manages to make it look like a cricket match.
The US version also features an unsettling misogyny which Chan was right to correct. The female characters are awful. They are either kidnapped, hysterical, or forced to undress. In one particularly offensive scene, Ko's drug lair is seen to be staffed by men in lab coats and four naked women who, for some reason, clearly don't require lab coats. Chan replaced this scene in his version.
Never before have two completely separate visions collided in such a distasteful manner. Thankfully the Chan story has a happy ending, but it would take him a further 10 years before he would fully recover from this experience.