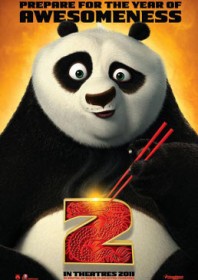 The kung fu chops of Po the Panda (innately voiced by Jack Black) and his buddies, the Furious Five, may already be replacing Shrek as DreamWorks' default family franchise, but a slight structural imbalance has started to emerge with this enjoyable if fairly routine follow up.
The cuddly Po wears his heart on his sleeve and the movie follows suit, slightly straining to be taken a bit too seriously. The first film's strength relied on Po's journey from the enthused son of a noodle chef to becoming the ultimate Dragon Warrior, through some funny chopsocky reference points and popcorn Confucian philosophy, all of which seemed to be played out respectfully for both kids and adults.
Now that Po is already a kung fu master with the Furious Five by his side, the only place this sequel can go is deeper into Po's adoptive childhood and his relationship with his goose father. That could all be quite funny if only there was a greater degree of irony involved. But, alas.
Then there is the evil Lord Shen (Oldman in one of his more lavish moods) – a peacock with similar family issues – who utilises gunpowder to construct a mighty cannon to take over China, pillaging all the metal and resources from the village folk and funnelling it into giant billowing furnaces. Could this be a metaphorical nod towards the new, industrialised China?
The story of gunpowder and its impact on the ancient martial forms suggests a link to the Boxer Rebellion and the notion of spirit soldiers, who depressingly announced their imperviousness to bullets before being slain quite defencelessly against the allied artillery. But this is also a theme which appears in scores of other martial arts films (the most obvious reference point being Tsui Hark's Once Upon a Time in China).
Which is all well and good, but in conjuring up such a virile hotplate of anxiety, the film seemingly fails to deliver any really big belly laughs – which is odd, considering we're placed in an anthropomorphic vision of ancient China inhabited by piglets and pandas.
That's not to say the follow up isn't entertaining, of course, because much of it is. The action is of a superbly well crafted quality, the animation is quite incredible, and the interaction between the central animal ensemble is increasingly likable, despite the stunted affections of Tigress, dismissively voiced by Angelina Jolie. And the fact Van Damme provides the voice of a giant crocodile is just priceless.