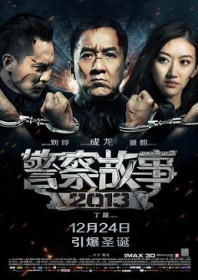 Those looking for a grittier antidote to Jackie Chan's increasingly diluted family-friendly output may be relieved to find this messy heist thriller, directed by Ding Sheng of Little Big Soldier fame. It doesn't really have anything to do with the other Police Story films, other than Chan reprising his role as a straight-laced cop (now equipped with an edgy short hairdo), who finds himself at the centre of a hostage situation masterminded by the haunted nightclub owner, Wu (Liu Ye). Unlike the original trilogy, this is based on the Mainland instead of Hong Kong, and it's not remotely funny.
There are flurries of physical, grounded action (a brutal if contrived cage fight shows Chan using MMA tactics in one of his most intense fight scenes for years), but for the most part, Jackie's top cop relies more on his negotiating skills. He quickly wins over his estranged daughter, who is also one of the hostages, before the film presents a Rashomon-style trial sequence to help uncover the truth behind a crucial murder scene.
There are interesting ideas and moments of genuine tension, and it's good to see Chan still willing to experiment with challenging work. However, the fast editing has a strained effect on being able to form any genuine emotional connection to the story, and it becomes quite difficult to care about any of the characters. It is also tonally ambiguous, ending with a raucous theme song (sung by Chan, of course), and jovial outtakes which seem to have been lifted from another film entirely.
AKA: Police Story: Lockdown