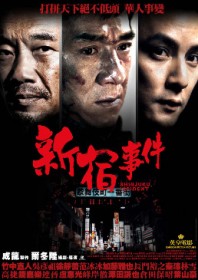 The ever likable Jackie Chan might have typecast himself into crass comedy oblivion in the United States, but his dramatic scope in China continues unabated. No more so than with this controversial effort.
Controversial, mainly, on two counts. For a film with no martial arts action to speak of, this is played almost self consciously straight by a stellar cast and is possibly the closest political statement the normally apathetic Chan has made since 1993's Crime Story (which bombed, incidentally). And equally controversial given Derek Yee's insistence to not tone down the film's violence despite pressure from the Chinese censors, resulting in the director personally withdrawing the film from a Mainland release.
It's certainly grisly in parts, but you wonder whether the state would have authorised such a release anyway, given the touchy subject matter of illegal Chinese immigrants fleeing the Mainland in the 1990s only to fall foul of outlawed Japanese oppressors and forming a criminal coalition of their own – one which inevitably breaks down into complete self destruction. After all, China did allegedly ban Avatar for its potential to cause political unrest, so this is a landmine by comparison.
Chan enters Japan illegally and works in the sewers alongside his fellow immigrants where he witnesses firsthand the potential for private enterprise in the form of unruly mob wars. He decides to build a better future for himself and his brothers by creating his own syndicate. Cheery Chan is seen having sex with a prostitute and assassinating two crime lords in a Scarface-style ascendancy which, despite the actor's best intentions, is too hard to swallow.
There's a childhood sweetheart in there too; a former village girl known by a Japanese name and married to a young Yakuza crime lord. But the romance is muddled and somewhat subsidiary to the overall sentiment: could life in China really have been worse than the corruption of character suffered in their new home?