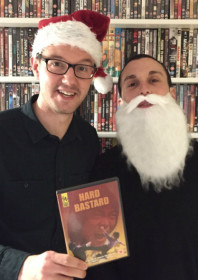 Welcome to the Kung Fu Movie Guide's End of Year Show 2017, featuring the action movie expert and author Mike Fury. Listen as we reveal our Top 5 martial arts films of the year – and also share our thoughts on our worst film of the year. We also discuss the top martial arts movie news from 2017, from Jack Ma's kung fu debut in Gong Shou Dao, to Wolf Warrior II becoming the highest grossing Chinese film of all time. We also discuss what Steven Seagal has been up to, Jackie Chan's step back into the Hollywood spotlight with appearances in The Lego Ninjago Movie and alongside Pierce Brosnan in The Foreigner, this year's Fighting Spirit Film Festival, and we remember some of the filmmakers who have died this year. We also look back at some of the great guests who have featured on the show, including the likes of Scott Adkins, JuJu Chan, Michael Worth, Matthias Hues and J.J. Perry. We also play some never-before-heard outtakes from the show and – because it's a Christmas special – we also exchange a few Christmas presents. It's an action-packed episode and we hope you enjoy it.
This year has been another incredibly diverse year for martial arts movies. We have seen China continue to release big-budget, high-grossing action films which have given established Hong Kong filmmakers like Wong Jing (Chasing the Dragon), Yuen Woo-ping and Tsui Hark (The Thousand Faces of Dunjia), and Gordon Chan (God of War) a platform to make martial arts films on an even grander scale. Chad Stahelski and David Leitch's 87Eleven stunt crew have continued to break new ground in terms of authentic, street-style fight choreography, as seen in movies like John Wick: Chapter 2, Atomic Blonde, and contribution to Wu Jing's wildly popular Wolf Warrior II. Away from the larger studios, the independent fight movie scene continues to thrive, particularly in the UK where filmmakers like Jesse V. Johnson (Savage Dog), Ross Boyask (Vengeance), and London-trained fight choreographer and actor Jean-Paul Ly (Jailbreak) have all stepped up to make an impression on the global scene. We have also seen popular Asian stars like Donnie Yen (xXx: The Return of Xander Cage), Tony Jaa (xXx: The Return of Xander Cage; Paradox) and Iko Uwais (Beyond Skyline) take further in-roads into the west. In critical circles, the highly acclaimed martial arts films of the year have belonged to South Korea and Japan; the action film The Villainess received a four-minute standing ovation at the 2017 Cannes Film Festival, and plaudits were lauded upon Japanese auteur Takashi Miike for his 100th film as director, the spellbinding Blade of the Immortal.
For more information on Mike Fury, visit mikefury.net. You can also follow him on Twitter and Instagram.