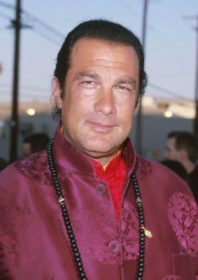 Date of birth: April 10, 1952 (Lansing, Michigan, US)
Full name: Steven Frederic Seagal
Occupation: Actor, producer, musician, writer, fight choreographer, aikido instructor, Deputy Sheriff
Style: Aikido, kendo, karate, judo
Biography: Steven Seagal was born the second oldest of four children in Lansing, Michigan – the son of a medical technician and a maths teacher. At the age of five, the Seagal family moved to California where he was enrolled at the Buena Park High School. Seagal originally trained in karate before learning aikido under Master Harry Kiyoshi Ishisaka in 1964. As a teenager, Seagal relocated to Japan where he obtained a 7th dan black belt and became the first westerner in Japan to run his own aikido dojo. Seagal became the head of the Tenshin Aikido organisation in Osaka City and later opened a second dojo in Taos, New Mexico. In 1983, Seagal returned to the US to open another dojo in North Hollywood with fellow student Haruo Matsuoka, before relocating to West Hollywood.
Seagal's first foray into motion pictures was as a fight choreographer on The Challenge (1982), starring Scott Glenn and Toshiro Mifune, and the unofficial James Bond adventure Never Say Never Again (1983), starring Sean Connery. In 1987, film agent and former student Michael Ovitz organised an aikido demonstration for Warner Brothers who summarily approached Seagal with a number of film scripts. Seagal would eventually co-write his action film debut, Above the Law (1988), in which he played a tough, uncompromising inner city cop with razor sharp aikido fighting skills and trademark ponytail. The film was a hit and three more successful action films followed: Hard to Kill (1990), Marked for Death (1990), and Out for Justice (1991). Seagal's most successful Hollywood film, Under Siege (1992), would go on to gross $156.4 million worldwide.
In 1994, Seagal made his directorial debut with On Deadly Ground, an action film highlighting environmental issues. The film was received poorly by critics but is heralded by Seagal as his best work. Seagal had a reduced role in the all-star Executive Decision (1996) alongside Kurt Russell. The environmental film Fire Down Below (1997) would be the last of his films under contract with Warner Brothers.
Since Exit Wounds (2001), all of Seagal's films have been released direct-to-video (DTV) in North America – the only exception being the 2010 theatrical release Machete directed by Robert Rodriguez. In 2009, Seagal made his television debut in the reality show Steven Seagal: Lawman, focusing on Seagal's work as a deputy sheriff in Louisiana. In 2013, Seagal starred in the TV series True Justice.
In 1999, Seagal was awarded a PETA Humanitarian Award. A keen guitarist and singer, Seagal has released two solo blues albums. He is the CEO of Seagal Enterprises, which markets a homeopathic oil, an aftershave called Scent of Action and the Steven Seagal's Lightening Bolt energy drink. Seagal became a Buddhist in 1997. He owns a ranch in Colorado and a home in Los Angeles. In 2016, he was presented with a Russian passport by the country's President, Vladimir Putin. Earlier in the year, Seagal was also granted Serbian citizenship.
Numerous actors have come forward to accuse Steven Seagal of sexual assault. In 2018, charges against the actor were 'declined' by the Los Angeles County District Attorney due to the statute of limitations having expired. The alleged assaults were said to have taken place in 2002 and 2005.
He has been married four times and has seven children.
Speech! "If the fans see somebody who is constantly in movies that have to do with overcoming evil and the bad guys, then [action stars] are naturally compelled by the story to commit constant large volumes of violence. Therefore, when you walk out into the public, many people associate you with that. I myself am a very nonviolent person and only resort to violence when I absolutely have to. I would say that is one of the biggest misconceptions." AskMen.com
Filmography (as actor): 1988 Above the Law (+ pro, scr, action dir.); 1990 Hard to Kill (+ action dir.); Marked for Death (+ pro, action dir.); 1991 Out for Justice (+ pro, action dir.); 1992 Under Siege (+ pro, action dir.); 1994 On Deadly Ground (+ dir, pro.); 1995 Under Siege 2: Dark Territory (+ pro.); 1996 Executive Decision; 1996 The Glimmer Man (+ pro.); 1997 Fire Down Below (+ pro.); 1998 The Patriot (+ pro.); 2001 Exit Wounds; Ticker; 2002 Half Past Dead (+ pro.); 2003 The Foreigner (+ pro.); Out for a Kill (+ pro.); Belly of the Beast (+ pro.); 2004 Clementine; Out of Reach; 2005 Into the Sun (+ pro, scr.); Submerged; Today You Die (+ pro.); The Foreigner: Black Dawn (+ pro.); 2006 Mercenary for Justice (+ scr.); Shadow Man (+ pro, scr.); Attack Force (+ pro, scr.); 2007 Flight of Fury (+ scr.); Urban Justice (+ pro.); 2008 Pistol Whipped (+ pro.); The Onion Movie; Kill Switch (+ scr.); 2009 Against the Dark (+ pro.); Driven to Kill; The Keeper (+ pro.); A Dangerous Man; Steven Seagal: Lawman (TV); 2010 Machete; Born to Raise Hell (+ pro, scr.); True Justice (TV); 2012 Maximum Conviction (+ pro.); 2013 Force of Execution (+ pro.); 2014 A Good Man (+ pro.); Gutshot Straight; 2015 Mercenary: Absolution (+ pro.); 2016 Sniper Special Ops; Code of Honor; The Asian Connection; The Perfect Weapon; End of a Gun (+ pro.); Contract to Kill (+ pro.); 2017 Cartels (+ pro.); China Salesman; 2018 Attrition (+ pro.); 2019 General Commander; Beyond the Law.