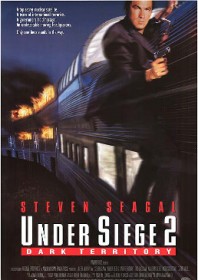 Essentially a repeat of the first film substituting a battleship for a train, this routine thriller barrels along agreeably and sticks to the tracks, forever chasing the coat tails of its predecessor.
A sleeper train running across the heart of continental USA is hijacked in Nevada by a burly band of mercenaries and a psychotic sacked ex-military boffin who masterminds an outlandish scheme to take his revenge on the world. He commandeers the controls of a top secret photon beam laser weapon in space and aims it at Washington, turning the train into his own private war room and holding all the passengers hostage.
Unfortunately ex Navy SEAL and chef Casey Rybeck is loose on board, working on his memoirs (that's not a joke) and escorting his estranged and orphaned niece back to LA. Soon, even the mercenaries realise how much trouble they're in. "He's the best there is," one of them says, as Rybeck makes his own bombs and starts to pick off the bad guys.
Seagal's smirking and complete lack of urgency is at odds with director Murphy's attempts to build an action man persona, which makes the scenes when he is required to dodge explosions or hang from the undercarriage of a moving helicopter even more implausible. But these are minor quibbles for an enjoyable if utterly moronic action film.