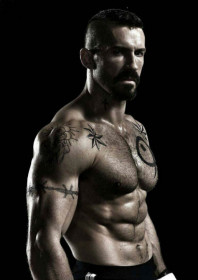 "I'm a good collaborator. I work very hard. I really put my heart into it, and I think directors respond to that. They know I'm going to give it my all."
Scott Adkins is one of the world's biggest martial arts movie stars. From humble beginnings as a Van Damme and Bruce Lee obsessed taekwondo practitioner growing up in Birmingham, UK, to starring in some of the best fight movies of the last decade, Scott Adkins has consistently brought a unique charm, athleticism and authenticity to his own special brand of high-kicking action films. His latest film, Boyka: Undisputed, sees Scott reprise his most famous role as the Russian ex-con' and MMA expert, Yuri Boyka. This podcast was recorded a few weeks after Scott accepted a number of awards for Boyka: Undisputed during Jackie Chan Action Movie Week at the Shanghai International Film Festival. You can order the Universal Studios Home Entertainment Blu-ray and DVD release of Boyka: Undisputed right now from this Amazon link.
As well as leading roles in the Undisputed and Ninja franchises, Scott's many other martial arts action films include Hard Target 2, Eliminators, Assassination Games, Wolf Warrior and Universal Soldier: Day of Reckoning. He has worked on huge Hollywood blockbusters like Doctor Strange, The Bourne Ultimatum, The Expendables 2, X-Men Origins: Wolverine and Zero Dark Thirty, and he has worked with everyone including Jackie Chan, Jet Li, Jean-Claude Van Damme, Dolph Lundgren and Jacky Wu Jing. He consistently works with great action directors like Isaac Florentine and James Nunn, and awesome fight choreographers like J.J. Perry and Tim Man. Scott has most recently completed back-to-back projects with the stuntman-turned-director Jesse V. Johnson, including Savage Dog, Accident Man – in which Scott also worked as scriptwriter and producer – and Triple Threat. The latter is an all-star fight flick featuring Tony Jaa, Iko Uwais, Tiger Chen, Celina Jade, Jeeja Yanin, Michael Bisping and Michael Jai White.
In this exclusive, wide-ranging interview, Scott talks about his formative years working with the Jackie Chan Stunt Team in Hong Kong while maintaining a TV career in a number of popular UK soap operas. He discusses the trials and tribulations of working in Hollywood, his trademark style of fight choreography, his desire to direct, and the increasing scourge of online piracy which continues to have a crippling effect on the independent, low-budget film industry. That's why it is vital that you show your support for Scott's movies – and the film industry in general – by continuing to purchase these films whenever they become available on DVD or on-demand services. Scott is probably the hardest working man in martial arts right now and it was a pleasure to sit with him and record this fascinating interview. Keep up-to-date with the latest developments in Scott Adkins' career by following his Facebook, Twitter and Instagram pages, plus his official website.