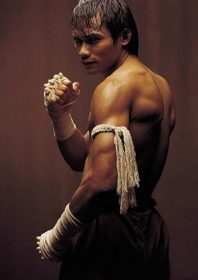 Date of birth: February 5, 1976 (Surin province, Isaan, Thailand)
Real name: Tatchakorn Yeerum
Other names: Panom Yeerum
Style: Muay Thai, Muay Boran, taekwondo
Biography: Inspired by Hong Kong kung fu films, Tony Jaa enrolled at the Maha Sarakham College of Physical Education in Thailand under the auspices of filmmaker and stuntman Panna Rittikrai where he studied martial arts, acrobatics and gymnastics. Jaa secured stunt work in a number of commercials and movies including doubling for Robin Shou and James Remar in Mortal Kombat: Annihilation (1997). His demo reel was spotted by director Prachya Pinkaew who cast Jaa as the lead in Ong-Bak (2003), which promoted the hard-hitting style of Muay Thai kickboxing and led many critics to compare Jaa to Bruce Lee and Jackie Chan. Jaa made his directorial debut in 2008 with the Ong-Bak prequels Ong-Bak: The Beginning (2008) and Ong-Bak 3 (2010). In 2010, Jaa was ordained as a Buddhist monk. He made his English language debut in the film Skin Trade (2014) opposite Dolph Lundgren, and was working as a villain on Fast & Furious 7 when production was halted following the death of the film's star, Paul Walker. In 2015, Tony Jaa made his Hong Kong film debut opposite Jacky Wu Jing in the sequel, SPL II: A Time for Consequences. In 2017, Tony Jaa released his first pop song, called 'Groundbreaking'.
Speech! "Jackie Chan, Jet Li and Bruce Lee are my masters; they're the inspiration for my work. Bruce Lee was a heavy fighter who threw hard punches. Jackie moves very fast and uses a lot of comedy, and Jet Li is very fluid. I've tried to combine all of their styles and added some things of my own."
Filmography: 2003 Ong-Bak (+ action dir.); 2004 The Bodyguard; 2005 Warrior King (+ action dir.); 2007 The Bodyguard 2; 2008 Ong-Bak: The Beginning (+ dir, pro, action dir.); 2010 Ong-Bak 3 (+ dir, pro, scr, action dir.); 2013 Warrior King 2; 2014 Skin Trade; 2015 Fast & Furious 7; SPL II: A Time for Consequences; 2016 Never Back Down: No Surrender; 2017 Gong shou dao (short); xXx: Return of Xander Cage; Paradox; 2018 Master Z: Ip Man Legacy; 2019 The Gate; Triple Threat; 2020 Jiu Jitsu; Monster Hunter; 2021 Detective Chinatown 3; 2022 The Expendables 4.