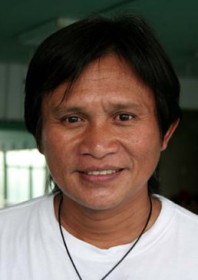 Date of birth: February 17, 1961 (Khon Kaen Province, Thailand)
Date of death: July 20, 2014 (aged 53)
Occupation: Director, stuntman, actor, producer, choreographer, script writer
Style: Muay Thai
Biography: Undoubtedly Thai action cinema's most important and influential filmmaker, Panna Rittikrai was the choreographer and director responsible for a string of internationally acclaimed martial arts films which place the native style of Muay Thai kickboxing centre stage. Rittikrai, as well as being an action star in his own right, helped to train and launch the careers of actors including JeeJa Yanin, Dan Chupong and Tony Jaa.
Rittikrai was born in the small village of Khon Kaen in 1961. His earliest influences were the films of Jackie Chan and Bruce Lee. His first experience working in the movies was as a physical trainer for actors in Bangkok before he formed his own stunt team, the Muay Thai Stunt, in 1979. His team's first collaborative effort was Kerd ma lui (Born to Fight) with Rittikrai taking on the lead role. The 20-member stunt team would go on to produce over 50 low budget B movies before disbanding in the mid-90s. In 1999, Rittikrai formed a partnership with filmmaker Prachya Pinkaew and his Baa-Ram-Ewe production company. In 2003, they worked together on the big-budget action film Ong-Bak, designed to highlight Rittikrai's trademark Muay Thai action and stunt work, and starring one of his team's young protégés, Panom Yeerum (later renamed Tony Jaa). Ong-Bak received worldwide acclaim for its authentic, hard-hitting fight sequences and virtuoso lead performance from Tony Jaa.
Rittikrai continued to work with Jaa and Pinkaew, firstly on the follow up film Tom-Yum-Goong (2005, called Warrior King in the UK), and two Ong-Bak prequels. In 2004, Rittikrai remade his first action film Born to Fight with young Thai fighter Dan Chupong in the lead role. In 2008, Rittikrai helped to launch the career of Yanin Vismitananda (JeeJa Yanin) – billed as the female Tony Jaa – with the action film Chocolate. Rittikrai was working with Tony Jaa on a Thai film entitled A Man Will Rise (2014) when he lost his long-running battle with liver disease. He passed away in 2014 on July 20 – the same day and month as his hero, Bruce Lee – at the age of 53.
Speech! To the Bangkok Post, 2004: "You've probably never heard of my movies. They are popular among taxi drivers and som tam vendors and security guards and Isan coolies. My most loyal fans are folk people in the far-out tambons, where they lay out mattresses on the ground and drink moonshine whisky while watching my outdoor movies."
Filmography (credit in brackets): 1984 Born to Fight (dir, cast); 1994 Plook mun kuen ma kah 4 (dir.); 1996 Puen hode (dir.); 2001 Kon dib lhek nam pee (dir.); Nuk leng klong yao (dir.); The Legend of Suriyothai (action dir.) 2003 Ong-Bak (action dir.); 2004 The Bodyguard (dir.); Born to Fight (dir, action dir.); 2005 Warrior King (action dir.); 2006 Dynamite Warrior (cast); Mercury Man (action dir.); 2008 Chocolate (pro, action dir.); Ong-Bak: The Beginning (dir, pro, scr.); 2009 Power Kids (pro.); Raging Phoenix (pro, action dir.); 5 huajai hero (pro.); 2010 Ong-Bak 3 (dir, scr.); Bangkok Knockout (dir, pro, scr, cast); 2011 The Outrage (action dir.); This Girl is Bad Ass! (action dir.); 2013 Warrior King 2 (action dir.); 2014 A Man Will Rise (action dir.)