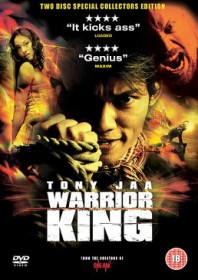 Tony Jaa cements his standing as the best thing in modern martial arts cinema with this follow up to Ong-Bak which treads a similar narrative path, offering more in the way of Muay Thai madness.
Jaa returns as another naïve but enlightened country boy who travels to Australia to retrieve a stolen elephant (honestly) which has been nabbed by Chinese poachers and thrown on the barby. Jaa doesn't much care for this, so with the resonating cry of, "You killed my elephant!" he unleashes hell's fury with his trademark knee and elbow strikes.
Pinkaew directs with an almost fetishist enthusiasm for his leading man's athletic capabilities. Therefore, the film sees Thailand's proudest export escalate walls in lightening quick time in repeats of Ong-Bak's breathtaking chase scenes. This sequence is beaten only by a full five minute Steadicam routine in which Jaa maims an entire building's worth of fighters in a single take, culminating in a mass of bone-breaking which takes the film's pain threshold to wince-inducing levels.
Tony also finds time to square off with a trio of foreign opponents, including a high-flying Capoeria fighter and the burly Nathan Jones. Jaa is pretty much indestructible – a visceral amalgamation of Bruce Lee's intensity and Jackie Chan's athletics – and alongside Ong-Bak he has driven two of the most breathtaking martial arts films ever made, all despite an unfortunate penchant for neckerchiefs.
AKA: Honour of the Dragon; The Protector; Revenge of the Warrior; Thai Dragon; Tom Yum Goong