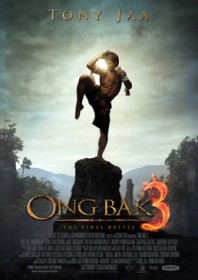 The culmination of Tony Jaa's historical Thai opus is underwhelming, given the butchering it has received at the hands of producers hoping to recoup on an overblown budget. The extra segments are glaringly obvious, added as an attempt to compensate for the serious lapses in story-telling and acting to further muddle the film.
Picking up from part two – which ended in incoherence – this follow up shows Tien's capture, torture, rescue, reincarnation and recuperation in the arms of his Buddhist mentors and childhood sweetheart, retraining his broken bones through dance and without the aide of a chiropractor.
The villain, a dark arts crow-like ghost killer with a neat trick of possessing souls who was briefly seen amid the confusion at the end of Ong-Bak: The Beginning, slays the King and assumes his position. The most confusing bit is the end, which makes use of a superb action sequence where feet fly atop the bodies of an elephant herd, only for the action to rewind (actually rewind) into new footage of Tien and the Crow Ghost battling it out.
Despite showing great aplomb behind the camera as well as in front, Jaa's dream project is a sorry, stressful mess.