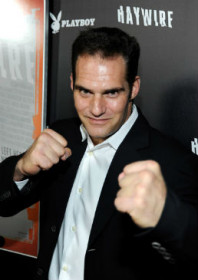 Date of birth: 1967 (Stamford, Texas, US)
Full name: Jordan Andrew Perry
Nickname: Loco
Occupation: Second unit director, stuntman, fight choreographer, stunt co-ordinator, fight trainer, actor.
Style: Taekwondo, Hapkido
Biography: J.J. Perry is a prolific stunt co-ordinator, stuntman, second unit director and fight trainer based in Los Angeles, and a former competitive fighter. Perry was raised by his grandparents in Stamford, Texas. He first learned martial arts from the age of seven at a local school run by the former US coach of the national taekwondo team. He started competing from a young age, and received his first black belt at the age of 12. He went to Dulles High School in Sugar Land where he also played football and wrestled. He trained competitively until the age of 24, eventually becoming a two-time National Junior Olympian and a Texas state champion. J.J. also began to explore film work as a stuntman while living in Texas as a teenager. By the age of 18, he had appeared in Pray for Death with Sho Kosugi and received his Screen Actors Guild (SAG) card while working on They Still Call Me Bruce with Johnny Yue.
His titles made him eligible for a programme in the US army, and in 1985, he signed up as part of the 82nd Airborne Corps. Stationed at Fort Hood, Texas. J.J. continued to compete in taekwondo whilst in the army, becoming a two-time All-Army Champion and later becoming part of the US 1990 Olympic Taekwondo team. He travelled to Korea and trained before eventually leaving the army in 1989 and moving to California.
He continued to compete in California – becoming a two-time California state champion – before eventually leaving for Los Angeles to pursue a career in film as a stuntman. He initially worked on a number of low-budget action films, including the likes of Bloodfist III: Forced to Fight (1993) with Don "The Dragon" Wilson, the Best of the Best sequels with Simon Rhee, and the Walker, Texas Ranger TV series starring Chuck Norris. It was on Walker that J.J. worked to develop his career as a second unit director and stunt co-ordinator. His first bid-budget Hollywood break was doubling for Linden Ashby in the 1995 film version of the hit computer game, Mortal Kombat. J.J. has remained a pivotal part of the continuing TV and film franchise, with stunts in the sequel, Mortal Kombat: Annihilation (1997) – where he played the characters of Cyrax, Scorpion and Noob Saibot – and the TV series, Mortal Kombat: Conquest (1998), where he also played Sub-Zero.
J.J. Perry's credits involve work in some of Hollywood's most successful action films and TV shows. In 1998, he worked with Sammo Hung in the Martial Law series. He has also performed stunts on hit TV shows including Nash Bridges, 24, and True Blood. He has worked with Joss Whedon on many of his TV and film projects, including work doubling David Boreanaz in Angel, stunts on the TV series Firefly, and doubling Nathan Fillion and fight choreography on Serenity.
His major movie credits include Batman and Robin, Wild Wild West, Three Kings, Planet of the Apes, Avatar, Star Trek Into Darkness, The Green Hornet, and Quentin Tarantino's Django Unchained. He has worked within the Marvel comic universe in films like Blade, Daredevil, Iron Man, and X-Men Origins: Wolverine. He has worked with some of the biggest names in martial arts cinema, including Jason Statham (The One, The Expendables, Safe, Homefront, Spy, Mechanic: Resurrection), Mark Dacascos (Drive, Instinct to Kill), Steven Seagal (The Glimmer Man, Pistol Whipped), and Michael Jai White (Undisputed II: Last Man Standing, Blood and Bone). He has also helped to train actors to fight on-screen, including Gina Carano for Haywire, Gerard Butler for 300, Milla Jovovich for Ultraviolet and Hugh Jackman for X-Men Origins: Wolverine. In 2004, J.J. Perry was awarded the Male Stuntman of the Year Award at the World Stunt Awards for his work in the 2003 film The Rundown.
J.J. Perry's work as a fight choreographer started with the 1998 film Deadly Ransom, starring Loren Avedon. His later credits include the Jean-Claude Van Damme film The Shepherd: Border Patrol, The Expendables, Olympus Has Fallen, Warrior, and the remake of Old Boy. He is a member of Stunts Unlimited and the 87eleven stunt team, run by former stunt performers Chad Stahelski and David Leitch. Perry has worked with 87eleven on John Wick and its sequel, John Wick: Chapter 2. He is also involved in the Fast and the Furious franchise (as second unit director and fight choreographer on The Fate of the Furious) and The Dark Tower, starring Idris Elba and Matthew McConaughey. In 2022, J.J. Perry made his directorial debut with the Netflix vampire action comedy, Day Shift, starring Jamie Foxx.
J.J. Perry has continued to train in the martial arts. He has a 5th degree black belt in taekwondo and a 2nd-degree black belt in Hapkido. He is the co-founder of two California-based Taekwondo West martial arts schools in Inglewood and Venice. He lives in Los Angeles with his wife and daughter.
Speech! "When you have 29 or 30 days straight and $2m but the script reads like a $100m script, I give it the same diligence that I would give a $300m movie. My job is to make the action bad-ass, regardless." Interview with Kung Fu Movie Guide, 2017.
Click here to listen to KFMG Podcast S02 Episode 11 with J.J. Perry.
Filmography (as actor/stuntman/stunt co-ordinator/fight choreographer): 1985 Pray for Death; 1987 They Still Call Me Bruce; 1992 Bloodfist III: Forced to Fight; Iron Heart; Rage and Honor; 1993 Full Impact; Best of the Best II; Walker, Texas Ranger (TV); 1994 Vanishing Son; Cyber Tracker; Vanishing Son III; Vanishing Son IV; 1995 Fist of the North Star; Best of the Best 3: No Turning Back; Mortal Kombat; 1996 Nash Bridges (TV); The Glimmer Man; Santa with Muscles; 1997 Bloodsport III; Batman & Robin; Drive; Mortal Kombat: Annihilation; 1998 Deadly Ransom; Blade; Charmed (TV); And Now You're Dead; Best of the Best 4: Without Warning; Mortal Kombat: Conquest (TV); 1999 Wild Wild West; Three Kings; Angel (TV); Martial Law (TV); 2000 Gedo; 2001 Fear Factor (TV); Mimic 2; Planet of the Apes; Crossing Jordan (TV); Instinct to Kill; The One; 2002 The Chang Family Saves the World; The Scorpion King; Deuces Wild; She Spies (TV); Ballistic: Ecks vs. Sever; Firefly (TV); Birds of Prey (TV); 2003 Daredevil; Anger Management; Basic; Johnny; 24 (TV); The Rundown; Sledge (Short); Timecop: The Berlin Decision; 2004 Sunland Heat; Around the Bend; Max Havoc: Curse of the Dragon; 2005 Confessions of an Action Star; Constantine; Be Cool; xXx: State of the Union; Serenity; Today You Die; Domino; The Poseidon Adventure; Walker, Texas Ranger: Trial by Fire; Black Dawn; No Rules; 2006 Alpha Dog; Ultraviolet; Undisputed II: Last Man Standing; American Misfits (TV); Click; Road House 2: Last Call; Splinter; Fallen; The Hard Easy; The Holiday; 2007 Adventures of Johnny Tao; Next; The Gene Generation; Sharpshooter; Urban Justice; Beowulf; 2008 Pistol Whipped; Beyond the Ring; The Shepherd: Border Patrol; Iron Man; Pineapple Express; 2009 X-Men Origins: Wolverine; The Tournament; Night at the Museum: Battle of the Smithsonian; Angel of Death; The Butcher; Bionicle: The Legend Reborn; Blood and Bone; Three Bullets (short); Avatar; 2010 Edge of Darkness; The Experiment; Takers; Paranormal Activity 2; 2011 The Green Hornet; Cat Run; Warrior; The Adventures of Tintin; Haywire; 2012 Underworld: Awakening; Gone; Get the Gringo; Loom (short); Safe; Total Recall; Argo; Bullet to the Head; Django Unchained; 2013 Gangster Squad; Olympus Has Fallen; After Earth; Star Trek Into Darkness; Machete Kills; Ender's Game; Old Boy; Homefront; 2014 Divergent; Transformers: Age of Extinction; True Blood (TV); Teenage Mutant Ninja Turtles; The Expendables 3; John Wick; 2015 Spy; The Last Witch Hunter; 2016 London Has Fallen; Mechanic: Resurrection; Billy Lynn's Long Halftime Walk; Spectral; The Saint; 2017 John Wick: Chapter 2; The Fate of the Furious; The Dark Tower; The Saint; S.W.A.T. (TV); 2018 Skyscraper; 2019 Stumptown (TV); Gemini Man; Beast Mode; 2020 Bloodshot; Beast Mode; 2021 F9; 2022 Samaritan.
Filmography (as director): 2022 Day Shift.