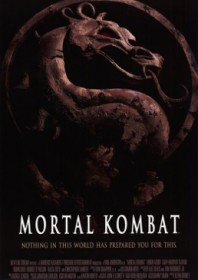 Perhaps the best movie adaptation of a popular video game (compared to absolute stinkers like Super Mario Bros. and Street Fighter), not only does Paul Anderson's action packed adventure satisfy hardened computer nerds but also the martial arts aficionado. It's one of the best American fight films of the 90s.
A hammy fantasy with harmless cartoon violence, the story focuses on the plight of the human race as they do battle in a surreal kung fu tournament on Outworld, run by an evil emperor and his sorcerer minion Shang Tsung (the snarling Tagawa). They have plans to possess the Earth, but not if the plucky humans can help it.
The mortal protagonists are Liu Kang (Shou), desperate to avenge the death of his brother; Johnny Cage (Ashby), a Hollywood actor eager to prove himself as a real fighter; and Sonja Blade (Wilson), on a similar quest for revenge. Together with whispering sage and thunder god Rayden (Lambert), our unsuspecting heroes set about saving the world in their own immutable fashion, with fists and feet and sunglasses.
But the competition won't be a breeze. Four-armed Shokan Prince Goro stands in their way, along with hoards of supernaturally powered ninja adversaries led by evil sorcerer Shang who can suck the souls from defeated warriors.
The movie is fun and exciting throughout and the cast do well to retain the charm, accompanied by some smart set pieces, flashy CGI and industrial soundtrack.