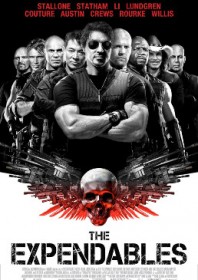 Sly Stallone's geriatric action movie renaissance works solely because of its sense of irony. With so much testosterone squeezed into one picture it couldn't have been any other way. But this is far from a spoof on the 80s American action movie. Stallone has made a heartfelt re-imagining of a dated genre, using Americans as the villains and with only the slightest hint of misogyny (that might have something to do with the fact there are only two women in the movie, both of which are somehow in need of rescuing).
The main emphasis is on bettering the death counts of both Commando and First Blood combined and giving cult, fan boy heroes their due respects. Rumour has it Stallone contacted both Jean-Claude Van Damme and Steven Seagal to appear, along with many others, but both declined. There is barely enough time to dwell on such possibilities before the screen is littered by a sublime ensemble of aging B-movie icons, the best of which (Dolph Lundgren) can barely talk. But there is also gracious involvement from Mickey Rourke, Gary Daniels and Steve Austin.
When Arnie and Bruce Willis appear in a fantastic cameo near the start, the roof is raised and it's pretty much game on from there. Jet Li, Jason Statham and Stallone are the film's main focus, heading up a buddy unit of espionage experts (yeah, right) who are covertly hired by the CIA to take down a former agent (Eric Roberts) who has orchestrated a military coup in Latin America, kidnapping the general's daughter and swooping in on the region's illegal drugs trade.
But, basically, what we have are good guys, bad guys, stock dialogue, crass one-liners (example: "Next time, I'll deflate all your balls") and consistent bloody carnage, just the way it used to be. The best geek-out moments involve the kung fu chops of Li, Statham and Daniels near the movie's end, which forms the basis of an awesome brawling sequence where the cast are placed firmly in their comfort zones. Only the personalities involved manage to secure a rather ordinary film's credibility, making it a heap of nonsensical fun.