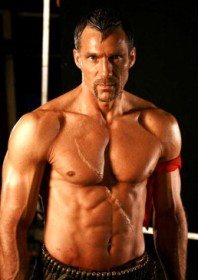 Full name: Gary Edward Daniels
Date of birth: May 9, 1963 (Working, Surrey, England)
Occupation: Actor, producer, action director, instructor, professional kickboxer
Style: Mongolian kung fu, kickboxing, taekwondo, Muay Thai
Biography: Daniels was influenced to pursue a career in martial arts after sneaking into a screening of Enter the Dragon at the age of eight. He trained in the hybrid style of Mongolian kung fu before studying taekwondo, acquiring a black belt under Master Rhee Ki Ha. Daniels taught taekwondo at three schools in England. In 1980, following disqualification for excessive contact in competitions, Daniels relocated to Florida to pursue a full-contact kickboxing career. Daniels has trained with Peter Cunningham, Jim Graden, and former World Heavyweight Kickboxing Champion Joe Lewis. In the 1990s, Daniels began studying Muay Thai kickboxing alongside Benny Urquidez and Winston Omega. Relocating to California, Daniels was crowned PKA (Professional Karate Association) Lightheavyweight Kickboxing Champion, retiring from competitive fighting in 1993 to concentrate on a film career. Daniels started acting in the Philippines on low budget martial arts films. In 1993, Daniels made his Hong Kong film debut in the Jackie Chan film City Hunter. He has predominantly worked in B movies in America alongside the likes of Steven Seagal, Don "The Dragon" Wilson, Dolph Lundgren, Wesley Snipes and Sylvester Stallone. He has also worked as a fight choreographer and associate producer.
Speech! In an interview with Kung Fu Movie Guide: "I knew what I wanted to do for the rest of my life the day I saw Bruce Lee on screen. And 40 years later that hasn't changed. I still train five days a week and my goal is still to be the lead in a film that opens on 3,000 screens on a Friday night."
Click here to read our interview with Gary Daniels.
Filmography: 1988 The Secret of King Mahis Island; Final Reprisal; 1991 In Between; Ring of Fire; Final Impact; Capital Punishment; 1992 Deadly Bet; Blood Fist IV: Die Trying; American Streetfighter (+ action dir); Mission of Justice; 1993 City Hunter; Full Impact (+ action dir); Knights; Firepower; 1994 Deadly Target; 1995 Fist of the North Star; Rage; Heatseeker; 1996 White Tiger; 1997 Hawk's Vengeance (+ action dir); Bloodmoon; Riot; Pocket Ninjas; 1998 Recoil; Spoiler; 1999 No Tomorrow; Sons of Thunder (TV); Cold Harvest; 2000 Ides of March; Epicentre; Delta Force One: The Lost Patrol; 2001 Queen's Messenger; Gedo; City of Fear; 2002 Black Friday; 2004 Witness to a Kill; Retrograde; 2005 Submerged; 2006 Reptilicant; 2008 The Day the Earth Stopped; The Legend of Bruce Lee (TV); Cold Earth; 2009 La Linea; Immortally Yours; Tekken; 2010 Game of Death; The Lazarus Reports; The Expendables; Hunt to Kill; 2011 Forced to Fight; Johnny's Gone; 2012 The Encounter: Paradise Lost; The Mark; Angels; 2013 The Mark: Redemption; A Stranger in Paradise; Payday (TV); 2014 Tekken: Kazuya's Revenge; Misfire; 2015 2 Guns: Zero Tolerance; Skin Traffik; Farewell, Berlin Wall; Dancin': It's On!; 2016 The Wrong Child; 2018 Astro; Rumble; I Am Vengeance; 2021 The Gardener; The Law of Destiny; 2022 Bring Him Back Dead; Kung Fu (TV); Repeater.