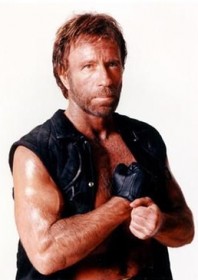 Date of birth: March 10, 1940 (Oklahoma, US)
Real name: Carlos Ray Norris
Occupation: Actor, producer, writer, martial arts instructor
Style: Karate, Tang Soo Do, Chun Kuk Do, Brazilian Jiu-Jitsu, Judo
Biography: Chuck Norris is a highly decorated former member of the US Air Force, a six-time world Karate champion and an action film star of film and television. He is also a published author of books on Christianity, a vocal supporter of the Republican Party, and the founder of his own martial arts system and philosophy, called Chun Kuk Do (meaning, 'the universal way').
Carlos Norris was born in Ryan, Oklahoma. He was named after his father's minister, Carlos Berry, and was the oldest of three sons to parents Wilma and Ray Norris. As a child, Carlos endured a turbulent upbringing with a father who was an alcoholic. His youngest brother, Aaron Norris, would later become a movie producer in Hollywood. His middle brother, Wieland Norris, became a private in the 101st Airborne Division and was killed while on patrol in Vietnam. Chuck Norris would later dedicate the action film franchise Missing in Action to the memory of his deceased brother.
Chuck Norris was 16 when his parents divorced. The family – minus his father – relocated to Kansas before settling in California. Norris did not excel academically. He was also said to be shy and not particularly athletic. In 1958, he signed up to join the United States Air Force as an Air Policeman (AP), stationed at Osan Air Base in South Korea. It was here Carlos Norris was first given the nickname 'Chuck', and started to develop his skills in the Korean martial art of Tang Soo Do. He would eventually excel in the style and earn himself numerous black belts.
He continued his training upon returning to America, where he worked as an AP at March Air Force Base in California until being discharged in 1962. He then worked for the aircraft manufacturers Northrop Corporation and began to open his own Karate schools. The school in his hometown of Torrance on Hawthorne Boulevard, California, was said to be frequented by many celebrities including Steve McQueen, Priscilla Presley and Donny Osmond.
During the 1960s, Chuck Norris began to make a name for himself as a competitive fighter at top international Karate competitions. It was while competing at Long Beach in 1964 when he would first meet the acquaintance of Bruce Lee. Norris would go to become a successful competitive fighter, eventually being crowned Professional Middleweight Karate Champion in 1968 – a title he held onto for six consecutive years. In 1969, he won Karate's triple-crown for the most tournament wins of the year. In the same year, he was awarded Fighter of the Year by Black Belt magazine.
Through his friendship with Bruce Lee, he started a career in film. His first on-screen appearance was in the Dean Martin film The Wrecking Crew (1969), which featured fight choreography by Bruce Lee. When Lee was casting for a formidable western opponent to go toe-to-toe with in the gladiatorial finale of his film The Way of the Dragon (1972), he selected Karate champion Chuck Norris. Although the film was set in Rome and exterior shots were filmed on location, the infamous fight at the Colosseum was actually filmed at the Golden Harvest studios in Hong Kong. It is regarded as one of kung fu cinema's best fight scenes and it set Chuck Norris on the road to a career in the movies.
Due to his popularity in Asia, Chuck Norris then appeared as another villain in the forgettable Lo Wei film Yellow Faced Tiger (1974). In 1974, spurred on by his friend Steve McQueen, he was persuaded to take acting lessons at MGM. His first starring roles in US productions soon followed, including Breaker! Breaker! (1977), Good Guys Wear Black (1979), The Octagon (1980) and Lone Wolf McQuade (1983). His stoic delivery and martial arts skills were an instant hit with audiences and these films helped to make him a truly bankable star.
Chuck Norris was now primed to become one of 1980's biggest action heroes during the decade of big guns and big muscles. He became the go-to leading man for the Cannon Group production company, helping to change the fortunes of the company's Israeli owners, the cousins Menahem Golan and Yoram Globus. In 1984, he starred in the Rambo rip-off Missing in Action, which was the first of a series of films set during the Vietnam War and centering on rescue missions of American POWs. He would eventually appear in eight films in four years for the Cannon Group, working occasionally with his brother, Aaron Norris.
When Cannon Group went bankrupt in the early 1990s, Norris found sporadic acting work in other less successful titles. He reprised his role in The Delta Force (1986) for MGM who had bought the Cannon Group. Norris' career was revitalised on the small screen when CBS commissioned the TV show Walker, Texas Ranger in 1993. The show, inspired by the Chuck Norris film Lone Wolf McQuade, would run for eight years and featured Chuck Norris as the tough but moralistic southern ranger Cordell Walker, who used his martial arts skills to administer justice. The show ran for eight seasons, was aired in over 100 countries, and ended on a cliff-hanger in 2001. In 2005, the cast reformed for the TV movie, Walker, Texas Ranger: Trial by Fire.
From 2005, Chuck Norris became the subject of a bizarre but good-natured internet meme entitled Chuck Norris Facts. Although initially puzzled by the joke, Norris took the parody in good humour and said he was not offended. The popularity of the meme sparked a re-imagining of Chuck Norris as something of a comedic and cult figure. He highlighted his new found fame as a pop culture icon by accepting an offer to play himself in the Ben Stiller comedy Dodgeball (2004). He also referenced the exaggerated 'facts' during his appearance in the Sylvester Stallone action ensemble The Expendables 2 (2012).
Chuck Norris has continued to train in and teach the martial arts. In 1990, he was the first westerner in the history of Taekwondo to be awarded the rank of 8th Degree Black Belt Grand Master. He has also been awarded a black belt in Brazilian Jiu-Jitsu by the famous Machado brothers. In 1999, he was inducted into the Martial Arts History Museum's Hall of Fame. In 2000, he was presented with a Golden Lifetime Achievement Award by the World Karate Union Hall of Fame. He teaches his own style and philosophy called Chun Kuk Do, which is based on Tang Soo Do and involves elements borrowed from other styles. Chun Kuk Do has its own code of honour – written by Norris – which portrays his outlook on how to be a better citizen. Famous practitioners include former World Kickboxing Champion Howard Jackson, the actor Richard Norton and the martial artist Bob Wall.
Norris is a devout Christian who has written books on Christianity. He has also promoted bible studies and Christian issues in TV commercials. He has done philanthropy work for Funds for Kids, the United Way and the Make-A-Wish Foundation, as well as a number of veteran's charities. In 2001, he was given the Veteran of the Year Award by the US Air Force. He is also a spokesperson for the US Veterans Administration. In 1990, he launched the United Fighting Arts Federation and KickStart to encourage young people to stay away from drugs and develop their self-esteem and confidence through the martial arts. In 2005, he launched the World Combat League (WCL); a full contact team-based martial arts competition in which all proceeds go towards KickStart.
Chuck Norris is a vocal supporter and regular donor to the Republican Party. He writes a column for the conservative website WorldNetDaily, supports gun rights and was one of the first celebrities to back a California state ban on same-sex marriage. He was a vocal supporter of Arkansas Governor Mike Huckabee during the 2007-08 presidential election campaign. In 2010, Chuck Norris was awarded the honorary title of Texas Ranger by Texas governor Rick Perry.
Chuck Norris has five children and nine grandchildren. He married his first wife, Dianne Holechek, in 1958, and together they have two sons, Mike and Eric. During an extramarital affair, Norris fathered a daughter, Dina, who he met for the first time when she was 26. Norris and Holechek were married for 30 years and divorced in 1988. In 1998, Norris married the former model Gena O'Kelley, who had two children from a previous marriage. In 2001, O'Kelley gave birth to twins – a boy, Dakota Alan Norris, and a girl, Danilee Kelly Norris.
Speech! "I'm a people's actor, not a critics' actor, and I always have been… When I got into the film business, my aim was to adopt a positive persona, of a guy who fights against injustice. And it saved me, because my acting was atrocious to say the least!" With Empire magazine, 2007.
Filmography (as actor): 1968 The Wrecking Crew; 1972 The Way of the Dragon; 1973 The Student Teachers; 1974 Yellow Faced Tiger; 1976 The Warrior Within (documentary); 1977 Breaker! Breaker!; 1978 Good Guys Wear Black; 1979 A Force of One; 1980 The Octagon; 1981 An Eye for an Eye; 1982 Silent Rage; Forced Vengeance; 1983 Lone Wolf McQuade; 1984 Missing in Action; 1985 Missing in Action 2: The Beginning; Code of Silence; Invasion USA; 1986 The Delta Force; Karate Kommandos; Firewalker; 1988 Hero and the Terror; Braddock: Missing in Action III; 1990 Delta Force 2: The Colombian Connection; 1991 The Hitman; 1992 Sidekicks; 1993 Wind in the Wire; Walker, Texas Ranger (TV); 1994 Hellbound; Walker, Texas Ranger 3: Deadly Reunion; 1995 Top Dog; 1996 Forest Warrior; 1998 Logan's War: Bound by Honor; 1999 Sons of Thunder; 2000 Martial Law (TV); The President's Man; 2002 The President's Man: A Line in the Sand; 2003 Bells of Innocence; Yes, Dear; 2004 DodgeBall: A True Underdog Story; 2005 Walker, Texas Ranger: Trial by Fire; The Cutter; 2012 The Expendables 2; 2015 The Finisher.