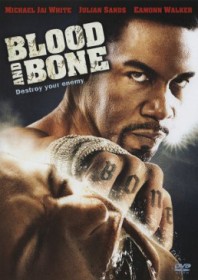 After a varied and not unremarkable career, Michael Jai White's transition to B movie hero has helped turn a number of humdrum potboilers into real gems. His natural calm and light touch can elevate the most tired of stories. This illegal street fighting film does little to deviate from the formula and is a box ticking exercise in redemption. But it's fast and slick, at times quite funny and sensitive, with good fight scenes.
White plays ex-con Bone (see what they did there?) as a sensitive chess-playing beefcake with a body like a sack of walnuts and an arsenal of karate and BJJ take-downs up his sleeve (when he's wearing them). Living in the shadows of LA in a deprived black neighborhood, he earns his keep as the hired heavy in a string of brutal street fighting bouts, which catches the eye of charismatic nutcase James. He's an intriguing villain with a distaste for bad language and a love of "white boy" music who closes business deals by stamping on the other guy's head.
The real baddie of the film is a louche Julian Sands playing the head of an international consortium of high rollers. He's white, rich, racist and British, so what's not to hate? The film does lose momentum when padding out the back story but the final fight with Matt Mullins is a scorcher, and the film comes with some neat cameos: UFC champ Gina Carano and Enter the Dragon actor Robert Wall, who is even referred to as O'Harra.