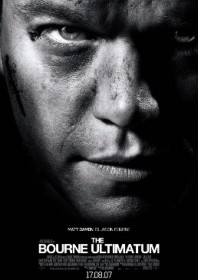 Quickly following on from where Supremacy left off, Bourne escapes the hoards of police in a Moscow subway and winds up in London following a Guardian journalist who is investigating the Jason Bourne files.
Bourne continues to battle with his confused, amnesiac mind as he tries to piece together memories of his training; corrupted by governmental spooks and utilised as a brainwashed assassin.
As the bullets fly in an attempt to silence their rogue agent, Bourne is tracked from an intelligence unit in New York across continents in record breaking time. He avoids assassination attempts in Waterloo station (the Guardian journalist isn't quite so lucky), a hairy moment with a government sniper in Morocco and a violent car chase through New York, stopping off in Tangier, Milan and Paris on the way.
This is just as relentlessly silly as the previous two films with as many loopholes and impossibilities as before. But when the adrenalin is set at such a dangerously high level as to whiz through almost two hours of screen time in an instant, any kind of questioning over the film's realism seems somewhat pointless.
There is no shortage of destruction in this second sequel with British director Paul Greengrass driving the film into all kinds of chaos and nail-biting set pieces that severely test the audience's nerve.
Any unanswered questions about Bourne's assimilation into the covert governmental spy program is answered by the end of the picture, and the film links so brilliantly with the other two that you wonder where the filmmakers could possibly take the series next.