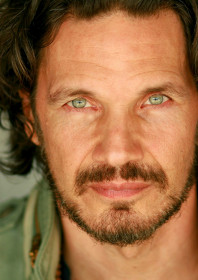 "I've sort of let the inner nerd come out and just gone with it – and it's fun, I love it, I enjoy it. And I see Tarantino doing it all the time and I think if he can do it, I can do it."
Today we celebrate the weird and wonderful world of Bruceploitation cinema with the martial arts action star, director, writer and fellow podcaster, Michael Worth. When he's not making his own movies, Michael has been following his passion for kung fu movies with a number of exciting projects. I catch up with him during the filming of his own Bruceploitation documentary, which will look into the strange sub-genre of films which followed in the wake of Bruce Lee's untimely death in 1973. These films made cult stars out of a number of Bruce Lee imitators including Bruce Li, Bruce Le, Bruce Leung, and Dragon Lee. Many of these names feature in Michael's documentary, as well as legendary kung fu movie actors, directors and producers like Angela Mao Ying, Godfrey Ho, Lee Tso-nam, Mars, David Chiang, Yasuaki Kurata, and the late Phillip Ko. Michael has also penned an accompanying book, The Bruceploitation Bible: The Film Clones of Bruce Lee; both the book and the film will be released later in 2017. He is also helping with the digital restoration of a number of classic Bruceploitation titles for Blu-ray release, working alongside the distributor, Severin Films. Michael is also the co-host of The Clones Cast, a great podcast which looks at a different Bruceploitation title on every episode.
In the 1990s, Michael Worth became a prominent star of martial arts action films with movies like Final Impact (1991), To Be the Best (1993) and Fists of Iron (1995). In more recent times, Michael has moved behind the camera to write and direct his own projects, which include Killing Cupid (2005), God's Ears (2008) and the upcoming MMA drama, The Butterfly Guard (2017). On this episode, we discuss his earliest memories of Bruceploitation cinema, the reasons behind its continuing cult appeal, and some of his favourite titles. There are literally hundreds of Bruceploitation movies out there – some of them are pretty terrible. But if you're wondering where to start to help you discover more about this strange sub-genre, then here's a list of the titles mentioned on this podcast.
Keep up to date with the latest Michael Worth news by following him on Twitter and Instagram, and for his latest Bruceploitation activity, check out this Instagram page.