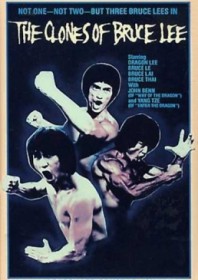 Certifiable evidence of a film industry gone mad, this is where the Bruceploitation sub-genre starts to eat itself. Not one, not two, but three Bruce Lee imitators, all in the same movie (four if you count Bruce Thai, who confusingly doesn't even play one of the clones).
The film starts with panicked doctors trying to resuscitate the real Bruce Lee as his body is rushed to hospital. The actor has barely been dead for 20 minutes before mad professor Benn (the beardy one from The Way of the Dragon) takes a sample of his blood at the behest of some made up foreign bureau. Through the aide of a highly scientific twiddling of bright flashing buttons, he creates three walking, talking, fighting versions of Bruce Lee – complete with black pumps and aviators.
Interestingly, Dragon Lee's first mission is to find an unscrupulous, grave-robbing movie producer who plans to kill off his main star and cash in on the proceeds of the subsequent spin-offs, which displays quite clever introspection for a film with the IQ of a walnut. Meanwhile, the other two are shipped to Thailand to contain a drugs baron who is turning his guards into bronze. And no, we're not making this up.
Moments like this (plus a spectacularly impromptu nude scene) add to the complete absurdity of this cult favourite, which sets up a courageously infantile premise and relishes every single second.