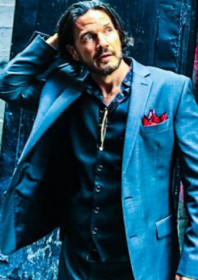 Date of birth: 13 January, 1965 (Philadelphia, USA)
Full name: Michael Troy Worth
Occupation: Actor, writer, director, producer, stuntman.
Style: Aikido, karate, Northern Shaolin, Eskrima, Jeet Kune Do, Tang Soo Do.
Biography: Michael Worth was born in Philadelphia to German and Delaware Indian Native American heritage. He spent his childhood around the Chesapeake Bay area before the Worth family relocated to northern California. Michael's first experiments with film was at the age of 10, when he made his own films using a Super 8 camera bought by his mother. He was captivated by kung fu movies growing up, in particular, the Bruce Lee and subsequent Bruceploitation films. A keen martial artist, Michael Worth started training in Aikido from the age of nine, before learning Northern Shaolin kung fu from the age of 13 in Albany, California, under the tutelage of Y.C. Chiang. He also started to compete in karate tournaments.
After graduating from high school in Berkeley, Michael moved to Los Angeles to make it as an actor, living in a truck with his dog for six months to save money. While in southern California, he frequented the famous Gold's Gym and started to learn the Filipino martial art of Eskrima from Bruce Lee's friend and student, Dan Inosanto. He also learnt Tang Soo Do and trained with Jerry Poteet, becoming an authorised assistant instructor in Jeet Kune Do. Michael would later work with Jerry and Jason Scott Lee on the set of Dragon: The Bruce Lee Story (1993).
He studied acting under the tutelage of Ivana Chubbuck, who also taught the likes of Charlize Theron, Brad Pitt and Halle Berry, and subsequently took small roles in TV shows and films. His leading role debut arrived in 1991 for Joseph Merhi's PM Entertainment in the martial arts action film, Final Impact, starring Lorenzo Lamas and with fight choreography by Eric Lee. He continued to work in action films for PM Entertainment, working on the films Street Crimes (1993) and To Be the Best (1994), before landing a role in the TV series, Acapulco H.E.A.T., which ran for two seasons. Michael almost secured the role of Robin in the film, Batman Forever (1995), which was eventually given to Chris O'Donnell. He still worked as a stuntman on the film. He returned to PM Entertainment to make the martial arts film, Fists of Iron (1995). In 2001, Michael worked with the martial arts filmmaker Isaac Florentine on the movie, U.S. Seals II.
In 2005, Michael made his directorial debut with Killing Cupid, a martial arts film which starred Jenya Lano and Lorenzo Lamas. The film earned him a nomination for Best Director at the Action On Film Film Festival in 2005 and won Best Fiction Film at the Hollywood Fiction Film and Video Festival in 2006. In 2008, Michael wrote, starred in and directed the sports film, God's Ears, about a boxer with autism. The film featured an award-winning supporting performance from Enter the Dragon star, John Saxon.
Michael Worth is an avid collector of kung fu movie memorabilia and original film prints. Michael provided audio commentary for the films Kung Fu Trailers of Fury (2016) and Return of Kung Fu Trailers of Fury (2017) for the DVD distributors, Severin Films. Michael is currently writing a book about the Bruceploitation sub-genre, called The Bruceploitation Bible: The Film Clones of Bruce Lee, which will be released in 2017 with an accompanying documentary produced by Severin Films. He is also the co-host of the podcast, The Clones Cast.
Speech! "I came out to LA to be an actor and director. (But) the truth of it is, I'm interested in making films because of the kung fu movies I saw as a nine or ten year old." Interview with Kung Fu Movie Guide, 2017.
Click here to listen to KFMG Podcast S02 Episode 20 with Michael Worth.
Filmography (as actor): 1985 The Legend of Billie Jean Surfer; 1987 Teen Wolf Too; 1991 Final Impact; 1992 Street Crimes; 1993 To Be the Best; Acapulco H.E.A.T. (TV); 1995 The John Larroquette Show (TV); Marker (TV); Fists of Iron; Diagnosis Murder (TV); 1997 Sue; Suddenly Susan (TV); 1998 Conan (TV); Pacific Blue (TV); 1999 The Contract; 1998 Acapulco H.E.A.T. (TV); 1999 Saved by the Bell: The New Class (TV); The Storytellers; 2001 U.S. Seals II: The Ultimate Force; 2002 Essence of Echoes; 2003 Ghost Rock (+ scr.); 2005 The Nowhere Man (+ pro.); Lethal; The King of Queens (TV); Demon Hunter; Killing Cupid (+ dir, scr.); The Closer (TV); 2006 Sasquatch Mountain (+ pro.); Left in Darkness; Twenty Good Years (TV); The Unit (TV); 2008 Dual (+ pro.); God's Ears (+ dir, scr.); 2009 War Wolves; Desperate Housewives (TV); 2011 Fort McCoy; CSI: NY (TV); Jabberwock; Girls! Girls! Girls!; 2012 Complacent; West of Thunder; 2013 Rise of the Dinosaurs; 2014 Flim: The Movie; Our Father (short); 2015 Seeking Dolly Parton (+ dir, pro, scr.); 2016 Presence (TV); Catfish Blues (+ pro, scr.); 2017 Deadly Expose; Devil Dogs (short); Broken Memories (+ dir.); The Butterfly Guard (+ dir.); Bring Me the Head of Lance Henriksen (+ dir, pro, scr.).