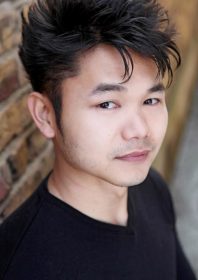 Occupation: Actor, stunt performer, fight choreographer, director.
Style: Hapkido, taekwondo, Capoeira, karate, kickboxing, tricking.
Biography: Jean-Paul Ly was born in Lyon, France, to Cambodian and Chinese parents. His parents fled from Cambodia during the rule of the Khmer Rouge. He began practicing martial arts from the age of five studying Hapkido, Karate, Capoeira, and specialising in 'tricking'.
In 2011, Ly moved to Cambodia for two and a half years, where he worked in a marketing role for a pharmaceutical company. He then relocated to London, where he worked in a corporate business role before quitting to pursue his dream of working in the film industry as a stunt performer.
His stunt work included appearances in the TV show, 24: Live Another Day, and the films Lucy, Grimsby, and Now You See Me 2. He worked with the filmmaker, Joey Ansah, as part of his web series, Street Fighter: Assassin's Fist. While working as a stunt performer, Jean-Paul enrolled at the Identity Drama School of London. He has also worked on his own short martial arts films, including Dead End, where he collaborated with long-time friend and martial artist, Laurent Plancel, and the short film, Dead Pan Fury.
Ly assisted the fight choreographers Jonathan Eusebio and Vincent Wang on the Marvel Studio's film, Doctor Strange (2016). During a seven-month period, he acted as a sparring partner for the main cast and a fight trainer. He was nominated as part of the American SAG awards for 'Outstanding Action Performance by a Stunt Ensemble'.
Jean-Paul returned to Cambodia to appear in his first leading role for the critically acclaimed action comedy, Jailbreak (2017), credited as being Cambodia's first martial arts film. He also acted as fight choreographer and helped to train many of the actors, extras and the stunt team. The film was notable for its promotion of the Cambodian martial art of Bokator, with the film featuring many Bokator experts. A sequel to the film is in the works.
In 2017, Jean-Paul Ly co-directed a 25-minute pilot with Laurent Plancel, called The Division. In the same year, he filmed the UK action film, Nightshooters. He currently works and lives in London.
Speech! "Somehow, the karate class was kind of like my father figure, telling me how to behave and be polite. That is why I am so grateful for the knowledge of martial arts – not just for the technique, but for everything it taught me." In conversation with Kung Fu Movie Guide, 2018.
Click here to listen to KFMG Podcast S03 Episode 33 with Jean-Paul Ly.
Filmography (as actor): 2014 Chameleon (short); 2015 Dead End (short); 2016 Cuckoo (TV); 2017 Jailbreak; King Arthur: Legend of the Sword; Amber; Gatwick Gangsters; Viking Siege; 2018 Nightshooters (+ action dir.); The Division (short; + dir, ); 2019 A Monster Family (short); Pumped Fiction (short); 2020 Artemis Fowl; I Am Vengeance: Retaliation; The Guardian.
Filmography (as stunt performer/fight choreographer): 2014 Street Fighter: Assassin's Fist; 24: Live Another Day (TV); Lucy; The Fight Room; Chameleon; 2015 Aashiqui: True Love; Deep Pan Fury; 2016 Grimsby; Now You See Me 2; Doctor Strange; 2018 Krypton (TV); Les aventures de Tranh & Nowak (short); The Prey; 2019 Fast & Furious Presents: Hobbs & Shaw; Treadstone (TV); The Gentlemen; 2020 Tiger Man (short); Hanna (TV); 2021 F9; Venom: Let There Be Carnage; The Batman.