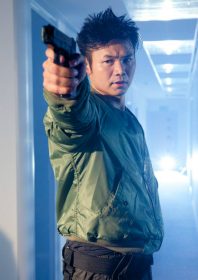 "People only see the success… but you need to be really strong, because there is a lot of ups and downs."
When Jean-Paul Ly moved from Cambodia to London to make it in the movie business, he predicted that within three years, he would be the lead in a martial arts action film. It only took two and a half years until he completed work on Jailbreak (out now on Netflix) – Cambodia's first martial arts film and a runaway international success. Despite being made on a shoestring budget and facing a number of on-set challenges, Jean-Paul Ly's hard work as the lead actor as well as one of its main fight directors helped the film to receive rave reviews from The Hollywood Reporter and Variety, and win international awards from film festivals including Fantasia, where it beat competition from huge Hollywood productions like Atomic Blonde.
Since then, Jean-Paul Ly has been working on a number of exciting new projects, from the UK action comedy Nightshooters (which gets its world premiere at the Raindance Film Festival in London on 6-7 October, and lands on Blu-ray, DVD and digital download from 26 December), to 14 Fists (directed by the Nightshooters' Bart Ruspoli), The Prey (a new action film from the team behind Jailbreak), Vengeance 2, and The Division, a short film which also marks Jean-Paul Ly's directorial debut. Jean-Paul Ly will also be appearing in Disney's Artemis Fowl, directed by Kenneth Branagh, which will be released in August 2019.
Find out more about Jean-Paul Ly by visiting his website, lyjeanpaul.com, and follow him on Twitter and Instagram.