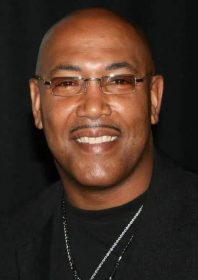 Date of birth: 11 August, 1967 (Philadelphia, USA).
Nickname: Bobby.
Occupation: Actor, director, stunt coordinator, stunt performer, action director, second unit director.
Style: Hung Gar kung fu.
Biography: Robert "Bobby" Samuels grew up in West Philadelphia. His parents were married for two years and divorced when Robert was two years old. His father, a banker, moved to New York and worked on Wall Street, and his mother stayed in Philadelphia. It was after watching a screening of King Boxer (1972) in Philadelphia that he first discovered a love for martial arts and movies. He would visit the cinemas on 42nd Street when visiting his father in New York, and as well as being obsessed with kung fu movies, he started to train in Hung Gar kung fu from the age of 10 with Maurice Tunstall in Philadelphia.
In the 1980s, Samuels started to break into the movie business. He auditioned for roles in the USA, and – while working for five years for the airline, US Airways – he made frequent trips to Hong Kong. Robert's first connection in Hong Kong was the Hung Gar expert and actor, Chiu Chi-ling, who also became Samuels' manager in 1990. Samuels also trained with Chiu for over 20 years. It was through Chiu Chi-ling that Robert met the Hong Kong stars Paul Chun, Chen Kuan-tai, and Sammo Hung, who was filming The Gambling Ghost at the time. After their meeting, Sammo called Robert and cast him in the film, starting a lifelong friendship.
When Robert eventually quit his job at US Airways, he moved into Sammo's home in Hong Kong, sharing a room with his son, and he became Sammo's second student alongside the actor, Collin Chou. While in Hong Kong, he developed his kung fu skills by training with different masters, including Mark Houghton, a student of Lau Kar-leung. He also became a fluent Cantonese speaker.
Robert Samuels became the first African American stunt performer to be inducted into the Hong Kong Stuntman Association. He still sits on the board. He was also inducted into the Asia Sports Stars Association, and the Hong Kong Performing Artists Guild. While in Hong Kong, rumours spread that Robert was Sammo's bodyguard, which actually helped his reputation in the film industry and led to more acting opportunities. Samuels would also shadow Sammo as an assistant fight choreographer, which saw him develop his skills behind the camera.
Samuels helped to form the first western stunt team in Hong Kong, known as the 'G7' ('Gweilo Seven'). Members of the team were hired in a number of films, including Don't Give a Damn (1995), The Quest (1996), and The Red Wolf (1995) for Yuen Woo-ping. He was also approached by Jackie Chan to be cast in Rumble in the Bronx, but following a falling out between Sammo Hung and Jackie Chan, Sammo told Samuels he could not appear in the film.
When Robert returned to the USA, he decided to work more predominantly behind the camera. In 1999, he worked as an action director and interpreter for Chow Yun-fat on the Hollywood action film, The Corruptor, co-starring Mark Wahlberg. Samuels found work as a second unit director and started to direct short films and music videos for the likes of Eve, DMX, Metallica, Mos Def, and more. He directed his first short film in 2016 – the martial arts short, Beast: Chronicles of Parker. He continues to work with fellow filmmaker, Robert Jefferson, as part of R4Films. Their work includes the Shadow Fist short films, a homage to 'old school' kung fu movies.
In 2021, Robert Samuels made his directorial debut alongside co-director, James Lew, in Made in Chinatown – a low-budget action comedy which starred newcomer Jay Kwon, Shaw Brothers legend Lo Meng, and Robert's former Hung Gar teacher, Chiu Chi-ling.
Speech! "I had been watching films like The Black Dragon with Ron Van Clief and Carl Scott's movies… seeing an African American [in] Hong Kong cinema, I knew I had a chance. I said, 'if they can do it, I've just got to put myself in a position and I will be able to do it, because I can see now that it can be done'." Interview with Kung Fu Movie Guide Podcast, 2022.
Click here to listen to KFMG Podcast S07 Episode 84 with Robert Samuels.
Filmography (as actor): 1987 The Good, the Bad and the Beauty; 1989 Fatal Bet; 1991 The Gambling Ghost; 1995 Don't Give a Damn; 1995 Hong Kong Graffiti; 1995 The Red Wolf; 2001 Blazin' (+ action dir.); 2003 Secret War; 2006 Seven Mummies (+ stunt coordinator); A Melody Looking; 2013 Last Days the Saga: Torment; 2018 Fatal Contact (TV) (+ dir.); 2019 John Wick: Chapter 3 – Parabellum; Yes, Auntie! (TV); Iron Fists and Kung Fu Kicks (documentary); 2020 Shadow Fist (short) (+ dir.); 2021 Made in Chinatown (+ dir.); 2022 Jugando Con Fuego (short); Shadow Fist II (short) (+ dir.).
Filmography (as stunt coordinator; action director; assistant stunt coordinator): 1990 She Shoots Straight; 1998 Don't Explain; 1999 The Corruptor; Terror Firmer; The Cut Runs Deep; 2003 Mail Order Bride; 2016 New York, New York.
Filmography (as director): 2016 Beast: Chronicles of Parker (short) (+ pro.); Golden Arms Returns (TV); 2017 Jun (short); 2022 Cafe Negra (TV) (+ scr.).