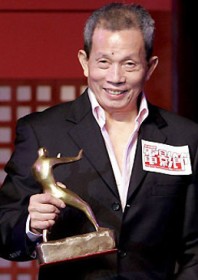 Date of birth: July 28, 1934 (Guangzhou, Guangdong, China)
Date of death: June 25, 2013 (aged 78), Hong Kong
Other names: Liu Chia Liang (Mandarin name); Gung Fu Leung, Kung Fu Liang, Lau Ga Leung, Lau Ka Leung, Liu Chia Liung, Liu Ka Liang
Occupation: Director, action director, actor, producer, writer, stuntman
Style: Hung Gar kung fu
Biography: As one of martial art cinema's most prolific and innovative filmmakers, Lau Kar-leung helped to shape the fortunes of the Shaw Brothers studio throughout the 1970s and 80s with his highly successful traditional kung fu films, and set the standard for Hong Kong fight choreography throughout a prolific career spanning six decades.
His martial arts lineage can be traced back to southern China's most influential kung fu practitioners. At the age of seven, Lau learnt Hung Gar kung fu from his father, Lau Cham, who was a student of 'Butcher' Lam Sai-wing – a former disciple of the real Wong Fei-hung. As children, Lau learnt kung fu alongside his brother, Lau Kar-wing, and his adopted brother, Gordon Liu.
Lau took his first steps into motion pictures as a teenager performing as a stuntman alongside friends and contemporaries, including a young Bruce Lee. He worked as an extra and choreographer on the original black and white Wong Fei-hung film series, made throughout the 1950s and alongside his own father (who played the role of his real life sifu, Butcher Wing).
In the early 1960s, Lau signed to the Shaw Brothers studio alongside action director Tong Gaai. The duo worked consistently with director Chang Cheh, helping to shape the action for his most successful films including One-Armed Swordsman (1967), Golden Swallow (1968) and The Boxer from Shantung (1972), as well as the director's seminal Shaolin films, including Men from the Monastery (1974) and Five Shaolin Masters (1974).
Following disagreements with Chang Cheh on the set of Marco Polo (1975), Lau began to direct his own Shaw productions, often using members of his family in key roles and helping to nurture new talent. In 1975, Lau made his directorial debut with The Spiritual Boxer, Hong Kong's first supernatural kung fu comedy.
Although Lau occasionally worked outside of his Shaw Brothers contract (most notably on films like Wang Yu's Master of the Flying Guillotine), he continued to break new ground at the studio over the next decade with a string of highly influential kung fu pictures. His groundbreaking series of Shaolin films highlighted the acting talents of his 'god brother' Gordon Liu, who was regularly cast as the virtuous yet vengeful monk in classics including Executioners from Shaolin (1977), The 36th Chamber of Shaolin (1978) and Legendary Weapons of China (1982) – films which regularly top opinion polls of the best martial arts movies ever made.
During his time at Shaw Brothers, Lau helped to launch the careers of Hsiao Ho, Kara Hui, and Alexander Fu Sheng, who would later die in a car accident during the making of Lau's final film for Shaw Brothers, The Eight Diagram Pole Fighter (1984).
Following the suspension of film production at Shaw Brothers in the mid-80s, Lau continued to work on a number of independent features. He directed Jet Li in Martial Arts of Shaolin (1986), Chow Yun-fat in Tiger on the Beat (1988) and Jackie Chan in Drunken Master II (1994). Lau would eventually leave the set of Drunken Master II following disagreements with Jackie Chan over the style of action required for the film. Regardless of it's dogged production, Drunken Master II earned Lau the Hong Kong Film Award for Best Action Choreography.
In 2002, Lau was selected to direct Drunken Monkey – the first Shaw Brothers film release in two decades. One of his final projects was as fight choreographer on the Tsui Hark epic Seven Swords (2005), which opened the 2005 Venice Film Festival, before retiring due to ill health. In 2010, Lau was awarded a Lifetime Achievement Award at the Hong Kong Film Awards.
Lau died in 2013 at Union Hospital in Hong Kong aged 78 after a 20 year battle with lymphatic cancer. He is survived by the actor Mary Jean Reimer, who he married in 1984, and two daughters, Jeanne and Rosemary.
Speech!  Speaking in 1984: "He [Chang Cheh] asked me what to do to rescue martial arts movies. I answered: 'fight scenes must be truer, like those in Bruce Lee movies'. 'But how?' he answered back. I told him that we must portray heroes who really existed and revive the kung fu the way they practiced it." Cahiers du Cinema.
Filmography (as director): 1975 The Spiritual Boxer (+ action dir.); 1976 Challenge of the Masters (+ action dir, cast); 1977 Executioners from Shaolin (+ action dir.); 1978 The 36th Chamber of Shaolin (+ action dir.); Breakout from Oppression; Shaolin Mantis (+ action dir.); Heroes of the East (+ action dir, cast); 1979 The Spiritual Boxer II; Dirty Ho (+ action dir.); Mad Monkey Kung Fu (+ action dir, cast); 1980 My Young Auntie (+ action dir, cast); Return to the 36th Chamber (+ action dir.); 1981 Martial Club; 1982 Legendary Weapons of China (+ scr, action dir, cast); Cat vs. Rat; 1983 The Lady is the Boss; 1984 The Eight Diagram Pole Fighter (+ scr, action dir, cast); 1985 Disciples of the 36th Chamber (+ scr, action dir, cast); 1986 Martial Arts of Shaolin (+ action dir.); 1988 Tiger on the Beat (+ action dir.); 1989 Mad Mission V: The Terracotta Hit; 1990 Tiger On The Beat II; 1994 Drunken Master II (+ action dir, actor); Drunken Master III; 2002 Drunken Monkey (+ action dir, cast).
Filmography (as action director): 1966 The Jade Bow; 1967 One-Armed Swordsman; The Assassin; 1968 Golden Swallow; 1969 Return of the One-Armed Swordsman; 1970 The Heroic Ones; 1971 The New One-Armed Swordsman; The Anonymous Heroes; 1972 Boxer from Shantung; The Water Margin; 1973 The Blood Brothers; Police Force; 1974 Heroes Two; Men from the Monastery; Shaolin Martial Arts; Five Shaolin Masters; The Legend of the 7 Golden Vampires (+ cast); 1975 Master of the Flying Guillotine; Bloody Avengers; 1980 Clan of the White Lotus; 1992 Operation Scorpio (+ cast); 1993 The Bare-Footed Kid; 2005 Seven Swords (+ cast).
Filmography (as actor): 1959 Story of the White Haired Demon Girl; 1965 Temple of the Red Lotus; 1987 Evil Cat; 1989 Pedicab Driver; 1990 New Kids In Town (+ action dir.); 1991 The Banquet; 1992 Twin Dragons.
Lau Kar-leung image from Deadline.com