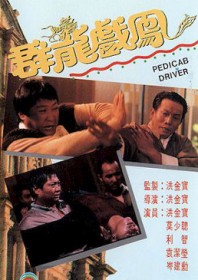 Sammo Hung and chums work as pedicab drivers in Macau. When they're not brawling with rival taxi firms or playing idle, they're oiling their chains for the opposite sex. But womanising brings its own trouble. Sammo's cake-making crumpet Nina is torn between her tubby toy boy and a besotted old master. Benny Mok spends the majority of the film wooing one of his bride-to-be clients, only for her to be revealed as a hooker. And you were expecting fart jokes?
This is racy stuff for Sammo whose insane genius (or fatal flaw?) is his complete inability to take matters seriously. The baddies are ice cool wrong 'uns, except for the pimp daddy who is a cowardly geek who will do anything to keep his girls at bay. You know where this is heading and it's not going to be pretty. But with Sammo driving the action the movie is hot stuff. Scorching, even.
As well as drawing upon an ensemble of Sammo's former Golden Harvest colleagues, there is a real ringer in the cast – Lau Kar-leung – who pops in for a pointlessly extended but incredibly awesome fist-and-pole exchange. Then there's a surge of action towards the end, shifting gears into warp speeds with a ferocious climax featuring Billy Chow, who turns out to be one of the movie's greatest assets despite not saying a single word.
That alone proves an important point. The somewhat uneasy alliance between lighthearted slapstick and heavy drama is Sammo's customary weakness, but as a director and choreographer of exquisitely timed, beautifully executed and thrilling kung fu action, the man's a magician. Here's further proof of his powers.