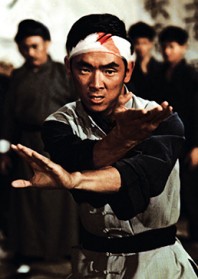 Date of birth: 28 March, 1943 (Shanghai, China)
Date of death: 5 April, 2022 (aged 79), Taiwan
Occupation: Actor, director, producer, screen writer
Real name: Wang Zheng-quan
Other names: Wang Yu, Wang Yue, Wong Yu-lung, Wong Jing-Kuen, Jimmy Wong Yu, Tiger Yang
Biography: Despite receiving no formal martial arts training, Jimmy Wang Yu predates Bruce Lee as Hong Kong's first action hero. Born and educated in Shanghai, Wang Yu trained as a soldier for the Chinese Republic before excelling as a swimming champion, prompting a move to Hong Kong in 1960. He signed as a contract player with the Shaw Brothers in 1963, working predominantly with fledgling wuxia director, Chang Cheh. The duo worked together on a number of titles, including Tiger Boy (1964) and The Magnificent Trio (1966), before achieving huge local success with One-Armed Swordsman (1967), the first Hong Kong film to gross HK$1m and the catalyst for launching Jimmy Wang Yu into action movie super-stardom.
Chang Cheh continued to use Wang Yu for a number of his Shaw Brothers productions, including The Assassin (1967), Golden Swallow (1968) and the sequel Return of the One-Armed Swordsman (1968). Wang Yu made his directorial debut in 1969 with The Chinese Boxer, often regarded as the first empty-hand kung fu movie and a precursor to the non-wuxia success of latter-day action stars like Bruce Lee and Jackie Chan. The film's fiercely patriotic sentiment and vengeful story would become standard plot devices for the genre throughout the 1970s.
Following the success of The Chinese Boxer, Wang Yu broke his contract with Shaw Brothers and was summarily blacklisted from filming in Hong Kong, relocating to Taiwan to work on independent productions and collaborative efforts with other studios, including Golden Harvest. Throughout the early 1970s, Wang Yu was at the helm of a number of important international co-productions, including a reprisal of his one-armed swordsman role opposite the Japanese cinematic icon Zatoichi – the blind swordsman – for Zatoichi Meets the One-Armed Swordsman (1971), and as the star of Australia's first martial arts film, The Man from Hong Kong (1975). As director, writer and star, Wang Yu would achieve lasting cult success with his empty-handed kung fu films One Armed Boxer (1971) and its sequel, Master of the Flying Guillotine (1975).
Throughout his career, Wang Yu has been dogged by controversy. According to Jackie Chan's autobiography, Wang Yu's influence helped to broker a dispute involving Chan and Hong Kong triad members. Jackie Chan said he appeared in two Wang Yu 'comeback' films as a favour to the actor: Fantasy Mission Force (1983) and Island of Fire (1990). Wang Yu retired from the film industry in 1997 to become a businessman. His international cult status was assured when footage from his film Tiger and Crane Fists (1976) was used in the spoof kung fu film, Kung Pow! Enter the Fist (2002).
He returned to the big screen in 2011 to widespread acclaim opposite Donnie Yen for the film Dragon, and his final film was horror film, Soul (2013), which also starred Joseph Chang. Both Dragon and Soul earned him acting nominations at Taiwan's Golden Horse Awards, and he was given a Lifetime Achievement Award at the Golden Horse Awards in 2019.
His turbulent personal life was often a matter of tabloid scrutiny. In 1969, he married the actor, Jeanette Lin Tsui, before they divorced in 1975. Lin died in 1995 at the age of 60. Together they had three daughters – Carol, Maria and the singer, Linda Wong. In 1981, Wang Yu married the former flight attendant, Wang Kai-chen, before they divorced in 1999 after it was revealed she was having an affair.
Wang Yu had suffered from ill health for a number of years before his death in 2022 at the age of 79. After a mild stroke in 2011, he suffered a second stroke in 2015, and underwent two emergency brain operations. He was not seen in public after returning to Taiwan in 2016. His death was announced on Instagram by his eldest daughter, Linda Wong. Upon hearing news of his death, Jackie Chan wrote on social media: "The contributions you've made to kung fu movies and the support and wisdom you've given to the younger generations will always be remembered in the industry. And your movies will always remain in the hearts of your fans."
Speech! "When I was a young film maker, I was influenced by many Japanese films which gave me many hints. I am honoured to have young people influenced by my films, but I hope those young film makers will make films that will exceed mine." Speaking at the Japan Fantastic Film Festival 2003.
On the secret to keeping young: "Every morning, I lift weights for one hour then I run for 20 minutes… and a bottle of Japanese sake every night."
Filmography (as actor): 1964 Twin Sword; Tiger Boy; 1965 Temple of the Red Lotus; The Twin Swords; 1966 The Magnificent Trio; Tiger Boy; 1967 One-Armed Swordsman; The Assassin; Trail of the Broken Blade; Asia-Pol; Sword and the Lute 1968 The Sword of Swords; The Golden Swallow; 1969 Return of the One-Armed Swordsman; 1970 My Son; The Chinese Boxer (+ dir, scr.); 1971 One Armed Boxer (+ dir, scr.); The Desperate Chase; The Professional Killer; Morale and Evil; Invincible Sword; Zatoichi Meets the One Armed Swordsman; Magnificent Chivalry; 1972 The Invincible; Furious Slaughter; The Last Duel; Chow Ken; The Adventure; Shogun Saints; Royal Fist; 1973 Black Friday; A Man Called Tiger; Knight Errant; Seaman No. 7; Beach of the War Gods (+ scr.); The Two Cavaliers; King of Boxers; Ten Fingers of Steel; Boxers of Loyalty and Righteousness (+ dir, pro, action dir.); The Tattooed Dragon; 1974 My Father, My Husband, My Son; The Iron Man; The Hero; Four Real Friends (+ dir.); 1975 Master of the Flying Guillotine (+ dir, scr.); A Cookbook of Birth Control; The Man from Hong Kong; The Gallant; Return of the Chinese Boxer; Great Hunter; 1976 A Queen's Ransom; One-Armed Swordsman Against Nine Killers (+ pro.); One Armed Swordsman (+ dir.); The Killer Meteors; Rage of the Masters; Tiger and Crane Fists (+ dir.); 1977 The Criminal; Brotherly Love; One Arm Chivalry Fights Against One Arm Chivalry; Lantern Street; Deadly Silver Spear; 1978 Blood of the Dragon; Point of the Finger of Death; Big Leap Forward; 1979 Ma Su Chen; The Battle of Guningtou; Prisoners of Mao; 1982 Revenge of Kung Fu Mao; 1983 Fantasy Mission Force; 1984 Shanghai 13; 1986 Millionaire's Express; 1990 Island of Fire (+ pro.); 1991 Once Upon a Time in China; 1992 Shogun & Little Kitchen; Requital; 1993 Beheaded 1000 (+ pro.); 2002 Kung Pow: Enter the Fist; 2011 Dragon; Let's Go; 2012 The Guillotines; 2013 Soul.