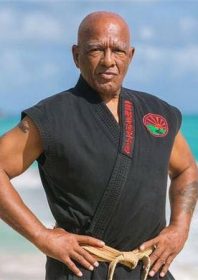 Date of birth: 25 January, 1943 (Brooklyn, New York, USA)
Other names: Ronnie Van Clief, Ron Van Cliff.
Occupation: Martial artist, instructor, police officer, writer, actor.
Style: Chinese Goju-Ryu Karate (founder), Karate, jiu jitsu, ninjitsu, taekwondo, kung fu, Arnis, Eskrima, Silat.
Biography: Known as the 'Black Dragon' – a name given to him by Bruce Lee – Ron Van Clief became the first Black action star to lead a Hong Kong film. He is a celebrated martial arts instructor, a five-time world karate and kung fu champion, a 15-time All American champion, a former police officer and US Marine, a New York Times bestselling author, and the founder of his own combat system, Chinese Goju-Ryu Karate.
Ron was born in Brooklyn, New York, in 1943. His younger brother, Pete, was born in 1944. As a child, Ron lived in an old rail car turned into a flat in Brooklyn's Lower East Side. His father, Allaire 'Larry' Van Clief, was a professional boxer in The Bronx in the 1920s and a former US Merchant Marine. He was torpedoed three times during the Second World War and was left scarred from his experiences of combat, becoming a heroin addict. He would eventually divorce from Ron's mother, Doris Van Clief, and died of a drug overdose.
As a child, Ron enjoyed drawing, comic books and martial arts. He started studying martial arts in 1959 with jiu jitsu grandmaster, Moses Powell. He attended Boys' High School, where he became a member of the Leader Corp, an elite group of gymnasts. He was also a keen bodybuilder, making his first set of weights at the age of 12 using paint cans filled with cement. By the age of 17, he was training in ninjitsu with Ronald Duncan, Sanuces Ryu Jiu Jitsu with Moses Powell, Shotokan Karate with George Cofield and Tom LaPuppet, and Goju Ryu Karate with Peter Urban. All of his instructors were former members of the US military.
In 1960, at the age of 17, Ron signed up to the US Marine Corp. Because his father did not approve, his mother had to sign the papers without his father's knowledge. He attended boot camp in Parris Island, South Carolina, and was one of only seven Black people out of 400 recruits. He was racially and physically abused by the sergeants in charge and his fellow Marines. While in Kinston, North Carolina, he was attacked and lynched by members of the Ku Klux Klan. He spent five months in hospital and cites this incident as the reason for his continuing battle with post-traumatic stress disorder. He named his 2012 autobiography, The Hanged Man, in reference to the attack.
In spite of the abuse he suffered, Ron qualified as an expert rifleman and was promoted to Private First Class. He underwent further training in Camp Le Jeune in North Carolina and Guantanamo Bay with the artillery unit before being sent overseas. In 1963, he was sent to Okinawa, where he learned Chinese Karate, followed by a year in the Philippines where he learned the Filipino fighting arts before being transferred to Vietnam in 1964.
Ron and his team were known for being artillery specialists during his tour in Vietnam where he spent six months in active duty. Ron became a user of drugs, including heroin, during his time in Vietnam to cope with the horrors of war. While operating an M-60 machine gun from a helicopter, he was shot down. Ron spent six weeks in a body cast, suffering from a fractured sternum, broken ribs and shrapnel wounds, and returned to New York in 1965 after five years in the military. His younger brother, Pete, was an airborne paratrooper who had spent three months in Vietnam before being killed in 1966 at the age of 22 after running over a landmine. Pete, who had spent only two years in the military, was posthumously awarded a Purple Heart for bravery.
Upon returning to the USA, he worked as a police officer for the New York City Police Department and as a bouncer at the Electric Circus nightclub in the East Village. In 1969, Ron won his first World Karate Championship at the Japan Exposition at the New York Coliseum. He took first place in the middleweight division and second place in the black belt kata. According to his autobiography, he took LSD while competing in the Japan Exposition. Bruce Lee was spectating when Ron lost in the preliminary rounds while competing at Madison Square Garden, and after the event, the two martial artist met and became friends. In 1971, Peter Urban inspired Ron to create his own style, which became the Chinese Goju system, designed as a way of unifying Japanese gōjū-ryū with its Chinese martial arts roots.
After working odd jobs as a stunt performer and extra, Ron followed a passion for film and enrolled at the New York Film School, studying screenwriting and filmmaking. It was Bruce Lee who talked Ron into auditioning for a role as a Black kung fu star in Hong Kong movies. Following an audition process with American film producer, Serafim Karalexis, Ron signed a five-picture deal with Yangtze Productions in Hong Kong. His first film, The Black Dragon (1974) – shot mostly in the Philippines – saw him become the first Black movie star to headline an action movie in Hong Kong. The film saw him become a huge name in both Hong Kong and the USA.
Ron would spend the next 10 years living and working in Hong Kong. He learned Cantonese and studied Chinese kung fu. People in Hong Kong called him 'hak gwai', meaning 'black ghost'. The remaining films on his contract included The Black Dragon's Revenge (1975), The Super Weapon (1976), Way of the Black Dragon (1979), and Kung Fu Fever (1979). Other notable film work includes his role as fight choreographer for The Last Dragon (1985), produced by the founder of Motown Records, Berry Gordy.
In the late 1970s, Ron wrote 'The Manual of the Martial Arts', which would go on to become a New York Times Best Seller and used by the US Secret Service as a self-defence training manual. Ron opened schools across New York City, and alongside private lessons, he would train up to 300 people a week, spreading the word of Chinese Goju. Through one of his students, Danny Guide – the son of the Vice President of Ghana – Ron and his son, Ron Jnr. (aka 'Shihan'), would relocate to Ghana, where he worked for the military in Ghana and Ivory Coast. He trained soldiers, police and government troops under the Akuffo regime, and was eventually marched out of the country with his son after a military coup.
In 1984, Ron was inducted into the 'All American Hall of Fame' at Madison Square Garden as a 15-time All American champion. He became an instructor for the US Secret Service. In 1994, at the age of 51, Ron became the oldest competitor to take part in the UFC, losing to Royce Gracie – aged 27 – in UFC #4. He officially retired from competitive fighting afterwards, becoming a commissioner for the UFC, only to return to compete – and win – in the 2002 All American Karate Championship at the age of 60. His student, Taimak Guarriello – star of The Last Dragon – came second in the middleweight division.
Ron has been married eight times and has five children. He is the father of the poet and writer, Shihan Van Clief, from his second marriage; and Kai Van Clief, who was born in 2006 when Ron was 64. He lives in Honolulu, Hawaii.
Speech! "When I became famous, or popular, or whatever you want to call it, from The Black Dragon films, I didn't like it. I didn't like it at all. It was quite an invasion on my life… I never really wanted to be a movie star. It happened, I did the best I could with it, but it wasn't something that I was really interested in. I was a kung fu movie fan, but when I met most of these stars, they knew nothing about martial arts." In conversation with Kung Fu Movie Guide Podcast, 2021.
Click here to listen to KFMG Podcast S06 Episode 69 with Ron Van Clief.
Filmography (as actor): 1974 The Black Dragon; 1975 Bamboo Trap; The Black Dragon's Revenge; 1976 The Super Weapon; 1978 The Squeeze; 1979 Way of the Black Dragon; Kung Fu Fever; 1980 Fist of Fear, Touch of Death (+ action dir.); 1983 Fight to the Death; 1985 The Last Dragon (+ action dir.); 1986 F/X (stunts); 1997 Shadow Conspiracy (stunts); Oz (TV) (stunts); 1998 Homicide: Life on the Street (TV) (stunts); 1999 Colorz of Rage; 2000 The Sopranos (TV) (stunts); Manhattan Chase; 2001 Blazin'; 2003 Kung Faux (TV); 2018 Hot Lead Hard Fury; 2020 BLVD (short); The Hanged Man (+ scr, pro.); 2021 Snow Black.