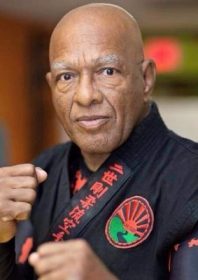 "Martial arts has been my life since 1959… You can never learn enough. The learning process is eternal."
Martial arts legend Ron Van Clief never wanted to be a movie star. Known as the 'Black Dragon' – a name originally given to him by Bruce Lee and adopted as his screen persona in a series of Hong Kong kung fu movies in the 1970s – Ron was dismayed at the lack of genuine martial artists he met when working in action movies. For the Brooklyn-born former US Marine and New York City cop, Ron's passion for the fighting arts was formed from an early age in real-life combat situations – the trauma of which still remain with him to this day. He fought in the Vietnam War where he lost his younger brother; in the early 1960s, he narrowly survived a lynching at the hands of the Ku Klux Klan. The attack inspired the name of his autobiography, The Hanged Man, which has been made into a documentary by the martial artist and filmmaker, Robert Parham. In spite of this – and his continuing battle with PTSD – Ron remains steadfastly dedicated to developing his skills in the martial arts, with accolades too numerous to mention – five-time world karate and kung fu champion, 15-time All American champion, a New York Times bestselling author, and the founder of his own combat system, Chinese Goju-Ryu Karate. Ron was the first Black action star to lead a Hong Kong film, and although he may not have enjoyed the fame, it has assured his reputation as one of the most iconic and important figures in martial arts cinema. Now, aged 78, it is encouraging to hear that he still shows no sign of slowing down.
On 30 July 2021, Ron Van Clief will be one of 12 grandmasters judging the virtual Ultimate Warrior Cup Championship. For more information, email sifual@aol.com and ronvanclief@yahoo.com. Find out more about Ron Van Clief via his website, ronvanclief.com, his IMDb page, and follow him on Twitter, Facebook and Instagram.