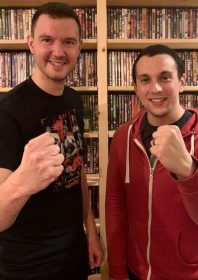 Ho ho ho and happy holidays to all our listeners around the world. Welcome to the first part of our annual, end-of-year wrap-up podcast featuring the Life of Action author, Mike Fury. And, wow, what a year it has been for martial arts action movies! From manga to Marvel, Netflix to multiplex, low-budget indies to explosive Hong Kong thrillers, this year had it all.
In Part One of our End of Year Show, we discuss the martial arts movie news which grabbed the headlines in 2021, and we pay our respects to the famous people we lost. We share some recorded messages from friends of the show, and – because it's the festive season – we also unwrap a few Christmas presents. It's a jolly old time! So settle in, sit back, and enjoy.
In Part Two – landing Christmas Eve, 24 December – we will discuss our personal top five fight films of the year, enjoy a glass or two of advocaat, and read out some of your comments. We also look ahead to the big movies coming our way in 2022. Find out more about Mike Fury via his website, mikefury.net, buy Life of Action Vol. I-II, and follow Mike Fury on Twitter, Instagram and Facebook.
A huge thank you to the following people for contributing to this episode: Scott Adkins, Joey Ansah, Loren Avedon, Ricky Baker, Tran Quoc Bao, Sarah Chang, Soo Cole, Jesse V. Johnson, Mike Moh, Richard Norton, Zara Phythian, Cynthia Rothrock, Matt Routledge and JuJu Chan Szeto.
Thank you Fu followers for all your support in 2021, and we wish you all a healthy, happy holiday season.
A not-very-comprehensive list of fight-centric action films released in 2021
Assault on VA-33; Black Widow; Boss Level; Bruised; Castle Falls; Counter Attack; Crazy Fist; Dynasty Warriors; Fast Vengeance; 400 Bullets; God of War II; Gunpowder Milkshake; Haymaker; Heroes Return; Hit Team; Ip Man: The Awakening Master; Jack Walker; Kate; The King's Man; The Last Mercenary; Luc Van Tien: Kung Fu Warrior; Made in Chinatown; The Matrix Resurrections; More Than Miyagi: The Pat Morita Story; Mortal Kombat; Mortal Kombat Legends: Battle of the Realms; Never Back Down: Revolt; Nobody; Notorious Nick; One More Shot; One Shot; The Paper Tigers; Prisoners of the Ghostland; The Protégé; Raging Fire; Raya and the Last Dragon; Rising Shaolin: The Protector; Rurouni Kenshin: The Beginning; Rurouni Kenshin: The Final; Sanak; Shang-Chi and the Legend of the 10 Rings; Snake Eyes: G.I. Joe Origins; Southern Shaolin; The Suicide Squad; Take Back; Xtreme; Yakuza Princess.
Listen to our End of Year Shows 2017-2020