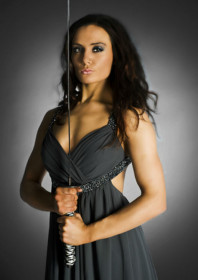 Date of birth: May 10, 1984 (Nottingham, UK)
Occupation: Martial arts instructor, actor, stunt performer, fight choreographer, producer.
Nickname: The Lady Dragon
Style: Shotokan Karate, wushu, Taekwondo, kickboxing.
Biography: Zara Phythian is the oldest of four sisters, born in Nottingham, UK. She started to train in the martial arts from the age of seven, learning the discipline of Shotokan Karate and achieving a second dan black belt before becoming a teenager. At the age of 13, she enrolled at Nottingham's School of Champions martial arts centre where she took up taekwondo, wushu, kickboxing and freestyle karate. She started teaching from the age of 16. Zara competed in national and international fight circuits, becoming a 13-time multi-style world champion. In 2006 – at the age of 21 – she became the first British martial artist to be inducted into the International Karate and Kickboxing Hall of Fame, alongside the likes of Bruce Lee, Chuck Norris, and Benny Urquidez. In 2009, Zara achieved the Guinness World Record for the most items kicked off people's heads in under a minute. The event was broadcast on national television. She was spotted by a film producer at an American martial arts event in 2005 after winning four national US title belts, and she would make the decision to step away from competitions to follow a career in acting and teaching.
Zara studied drama at Carlton le Willows in Nottinghamshire. Her first acting role was the 2006 US sci-fi film, Crops. She has continued to work in feature films, TV, motion capture, commercials and music videos. In 2007, she made her action film debut alongside leading UK fight talent including Mark Strange, Nathan Lewis and Joey Ansah on the independent action feature, Underground, the directorial debut of Chee Keong-cheung. Her first leading role was in the 2011 horror film, The Hike.
Through her friendship with fight choreographer Joey Ansah, she was called upon to double for Jean-Claude Van Damme's daughter, Bianca Bree, in the comedy sci-fi film, Alien Uprising (2012). She also had a fight scene with Van Damme. She had a supporting role in the 2014 action film, He Who Dares, with stunts coordinated by Jude Poyer.
In 2016, Zara played Brunette Zealot in the Marvel comic book adaptation of Doctor Strange, starring Benedict Cumberbatch, Tilda Swinton, and Chiwetel Ejiofor. Zara's role as part of Mads Mikkelsen's evil entourage involved a number of fight scenes with many of the film's leading characters. Zara worked again with UK fight choreographer Joey Ansah and her Doctor Strange co-star Katrina Durden in the 2016 short film, Kung Fu Darling. In 2016, Zara revealed she would be working on a film entitled Brutal Dragon with her wing chun coach, Samuel Kwok.
Zara continues to run her own martial arts school, called The Personal Best Academy, located in Mansfield, UK, which was founded in 2007. She hosts special seminars with guest instructors and teaches classes for children aged from four to 12 years old, as well as adults, under her own 'integrated martial arts system'. She has been the recipient of a Business Entrepreneur Award and nominated for a Young Business Person of the Year Award. Zara also sits on the board of an independent martial arts team for Great Britain. In 2017, Zara was named Woman of the Year at the Warriors Assemble British Martial Arts Awards. She lives in Nottingham, UK, and is married to the martial artist Vic Marke.
Speech! "I think as a martial artist, you can always tell the difference between someone who can punch and kick and someone who doesn't sell it well. But that's part of the acting game. You can sell the fact that you are a fighter and make it look as realistic as you can. Some people pull that off very well. Some people don't." In conversation with Kung Fu Movie Guide.
Click here to listen to KFMG Podcast S02 Episode 15 with Zara Phythian.
Filmography: 2006 Crops; 2007 End of Anger (short); Underground; 2008 Furor: Rage of the Innocent; 2011 The Hike; 2012 Alien Uprising (stunts); Knock Out; Gauntlet (short); 2013 Iron Monk; Enter the Streets of Myth (short); Warrioress; 2014 He Who Dares; The Fight Room; 2015 Landlord: Time to Pay the Rent; 2016 Doctor Strange; 2017 Heart of Chaos; Cannibals and Carpet Fitters; Knights of the Damned; 2018 Outlawed; Dragon Kingdom; 2019 Street Blood; Transit 17; 2020 Tribal: Get Out Alive.