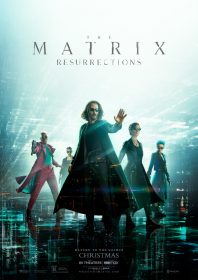 So, here's a challenge: how can Warner Bros. reboot a valuable IP nearly 20 years after two of its main characters quite convincingly died in order to save what remains of the human race, while also make the game-changing, genre-bending, technology-led dystopian setting of the original trilogy seem relevant for a modern, digitally savvy audience watching in 2021? More intriguingly, how can Lana Wachowski (her sister, Lilly, is missing from the franchise this time around) avoid making the whole thing feel like a purely cynical commercial exercise?
Well, to answer the latter question, she can't. In order to reach the desired denouement of Neo and Trinity back in their leathers and shades kicking ass – allowing for the possibility for even more Matrix films – then some serious unpicking is needed. So, it turns out that Thomas Anderson (Keanu Reeves), hacker alias 'Neo', is not actually dead – huh? – but living another blithely unaware existence in a newly constructed alternate digital reality, one in which he looks a lot like John Wick and works as a successful video game designer. Here's where it gets really meta and kooky, with Lana Wachowski tackling any accusations of a cash-grab head-on. In this new reality, Thomas Anderson is shown to be the mastermind behind a trilogy of hit video games, called The Matrix, who is now working with a focus group to discuss the concept of a sequel, one which directly references the highly influential original series. The film then cuts back to some of the series' most iconic moments, from its mind-bending alternate reality set-up to its bullet-time sequences and the concept of taking the 'red pill' versus the 'blue pill'. This deferential, self-aware approach is definitely a bold, brave move; however, in-jokes are not the sort of thing you might expect from a Matrix movie, so much of this wry humour never quite lands, and ultimately feels misplaced and puzzling.
Given how the original film touched on so many issues which permeate our society today – from gender politics to our reliance on technology and the growth of artificial intelligence and virtual reality – there is scope to make a new Matrix film which feels prescient and vital for a new audience. This film, however, doesn't seem to be particularly interested in saying anything new. Instead, it settles into something of a rehash of the first film, with the remaining humans still under threat from more machines (apart from those who are now helping the humans in their fight, which is a cute touch) and another strange contrivance which sees a newly unplugged Neo going back into the Matrix to rescue Trinity (Carrie-Anne Moss). She is now reprogrammed as 'Tiffany', a wholesome mother of two, married to 'Chad' (played by the stunt coordinator from the original series, Chad Stahelski, in another of the film's bizarre in-jokes). As a middle-aged love story, the film does at times succeed on bordering on the romantic, despite Trinity's role being mostly sidelined.
There is, however, a ringer in the cast of new characters who is worthy of attention. Bugs (Iron Fist's Jessica Henwick) is a punky, ass-kicking captain of her own ship who plugs directly into the Matrix to set free a new version of Morpheus (Yahya Abdul-Mateen II). Her story becomes redundant once Neo is rediscovered, and she is marginalised in the finale despite clearly being the film's most interesting new character. Among the psychobabble sits the action sequences, full of familiar slow-motion acrobatic gun fu but none of the refreshing Hong Kong style fight choreography that Yuen Woo-ping brought to the series. Those extended, flowing fight scenes in which most of the cast performed their own action was a huge part of what made the original films such a vibrant and unique experience. Much of the action here is far less coherent or satisfying. Devoted Matrix fans seeking a nostalgia fix may feel satiated by Resurrections, but we are far from the striking originality of the first film.
AKA: The Matrix 4.