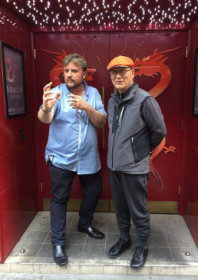 "I have a lot to thank him (Bruce Lee) for. Without him, I wouldn't be here today." Ricky Baker
Here's a kung fu movie double bill for the final episode in the first season of Kung Fu Movie Guide podcasts! Join me as I have a quick chat with the legendary Korean-born Hapkido master and former action star Hwang In-shik, famous for his role in the 1972 Bruce Lee classic The Way of the Dragon, and his work with Jackie Chan in The Young Master and Dragon Lord. Prior to his early retirement from movies in the mid-70s, Hwang worked predominantly at the Golden Harvest studios under the guidance of director Huang Feng and the choreography of Sammo Hung. At the age of 76, Hwang is still teaching Hapkido in his home city of Toronto, Canada. I met up with Hwang at the SENI Combat and Strength Expo, which took place on 16-17 July 2016 at the O2 in London, and the person I have to thank for organising the interview is my second guest on the show, Ricky Baker.
Ricky (known simply as 'Kung Fu Ricky') has dedicated his life to the promotion of Hong Kong and kung fu cinema. His work as part of the Eastern Heroes label alongside film expert Toby Russell (my guest on the very first episode of this podcast) has seen Ricky publish books, magazines and documentaries on kung fu cinema, as well as provide Hong Kong movie stars with their first taste of western exposure, hosting events with the likes of Chow Yun-fat, Donnie Yen, Jet Li and Gordon Liu. Ricky inspired legions of new kung fu movie fans through his popular screenings at the Scala cinema in London and his various VHS and DVD distribution labels, including contribution to the highly influential UK distributor Hong Kong Legends. Kung Fu Ricky has also worked in television with the UK presenter Jonathan Ross in both a research capacity and on-screen in the BBC series, Stop! Kung Fu!. His work in championing the golden age of Hong Kong cinema continues to this day with the Eastern Heroes shop and website where fans can purchase rare memorabilia and new material, like his array of Bruce Lee titles written by the highly knowledgeable historian, Steve Kerridge.
Keep up to date with Ricky by following him on Twitter and Facebook. I would like to thank George Dennis for his technical support and all of the listeners who have enjoyed this first season of podcasts. Help to spread the word by sharing this podcast on social media and leaving a comment on our iTunes, Soundcloud or Facebook pages. Let me know who you would like to hear from on future episodes of the show and I will try my best to get hold of them for our next season of podcasts. Until next time, thank you again for supporting the show and may Buddha bless you!